Christmas decorations for people who don't do christmas decorations. Chic, simple ideas with just the right amount of sparkle
1. Sitting room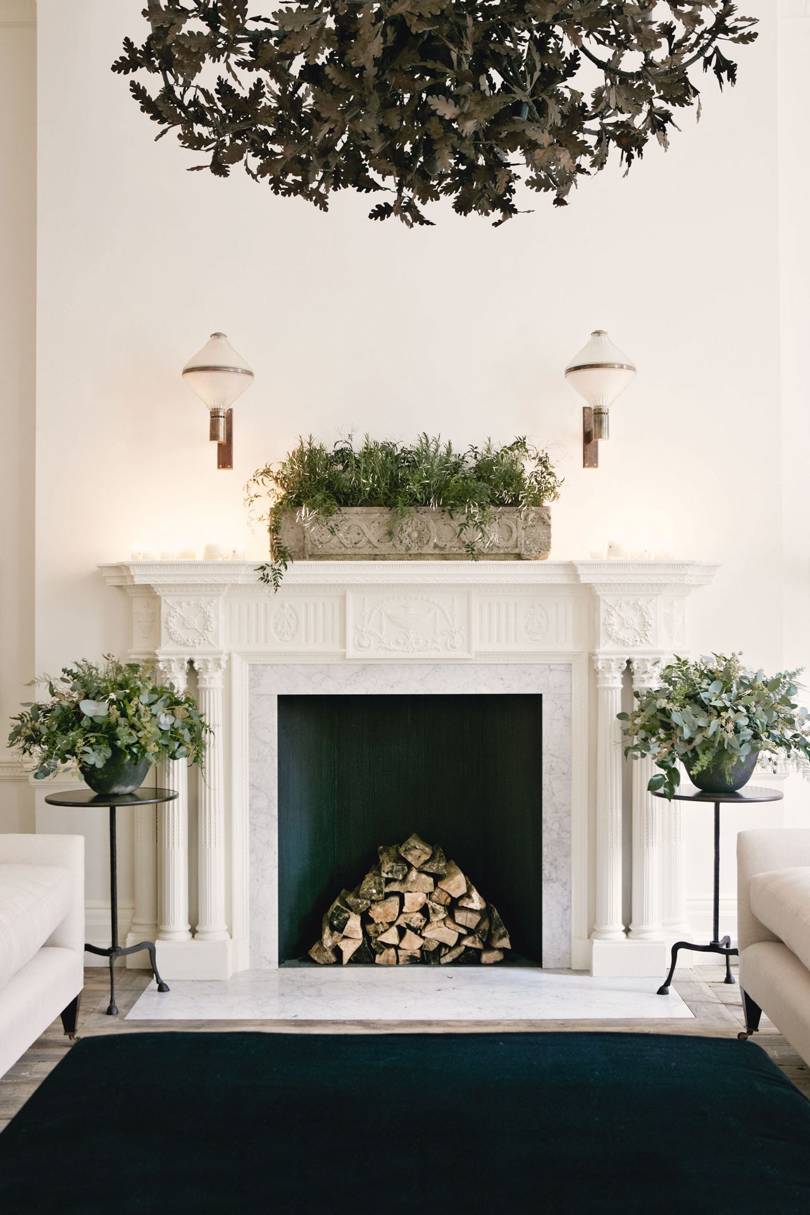 In this sitting room, of wild at heart has created arrangements to complement the simplicity of the interiors. 'We incorporated elegant statement arrangements, that were clean and sophisticated,' says nikki. 'For both arrangements, we've used a base of scots pine, soft grey pine, soft grey eucalyptus and asparagus fern. On the mantelpiece we've added flowering white jasmine and white euphorbia. While the grey vases have been padded out with lichen branches and eucalyptus buds.'
2. Has given the interior a relaxed look, using muted colours.
Solenne de la fouchardière the co-owner of chic home-furnishings company ochre, has given the interior a relaxed look, using muted colours. Her christmas decorations are similarly understated. 'I have stuck to a white and silver palette – the traditional red and green would have been too harsh,' she says. the results are cool and stylish, yet pretty.
3. Simple, natural arrangement works
This simple, natural arrangement works especially well in a smaller space or above a console table. Tie string around each end of a fir branch and hang it from a central point with twine. After a short amount of time, it will form this lovely relaxed shape. If you find that it falls back like a hammock, an additional length of string running between the two ends to form a triangle should keep it facing forward. Hang little bud vases at random lengths and fill with tiny berries or winter flowers. Red berries are festive, while bold flowers like hellebores would look very chic. Alternatively, attach brown envelopes with string or tape for a different take on an advent calendar.
4. There is something visually striking cascade of stars
There is something visually striking cascade of stars, the charm is in the looseness of the arrangement and in the tones of white on white. Made of papier mâché, the stars have, to be dipped in paint and hung up to dry. Once dry, string them on to long lengths of clear wire and hang them at different lengths, building up more density lower down. Then scatter the same number of stars on the table. However, be prepared to buy in bulk: this arrangement took nearly 200 stars. Papier mâché stars, from £4.75 for a pack of six. From the littlecraftybugs company.
5. Delicate plaster leaves

Delicate plaster leaves by artist peter hone – which are individually cast from real specimens look beautiful against this spindly, lichen-covered branch. To add extra sparkle we improvised some tiny hanging decorations from star-shaped table confetti hung on 1mm-gauge floristry wire.
6. Spiral staircase
At the bottom of this spiral staircase, the floral artist rebecca louise law has created a woodland scene with blue spruce trees imported from denmark. 'The larger trees were at least 12 years old,' she says. 'I wanted the installation to look as real as possible. My inspiration came from childhood memories of untouched. Snow covered trees at anglesey abbey, near where i grew up.' To create the drifts and undulations of a convincing snow covered forest floor. Smooth domes of wadding have been hidden under the synthetic snow. The trees were sprayed lightly with adhesive to create a fuller. More natural settling of fake snow on their branches.
7. Paper star
Paper star shades from bungalow have been hung under the canopy of this bed.
8. Christmas stockings
Cream christmas stockings bring warm to a white fireplace.
9. Hallway a mixture of fairy lights
In this hallway a mixture of fairy lights from ikea are draped loosely around the room to extremely pretty effect.
10. Fairy lights have been twisted
Here fairy lights have been twisted and tacked to a wall to display the word 'amore'.
11. White paper wreaths
White paper wreaths look extremely pretty in this white bedroom.
12. Grenades by the fireplace
Material provided by the site: houseandgarden.co.uk