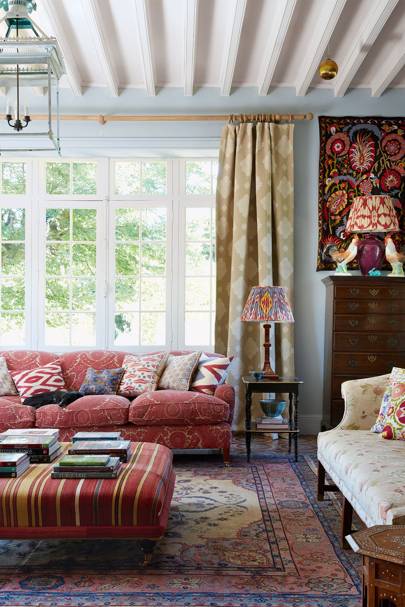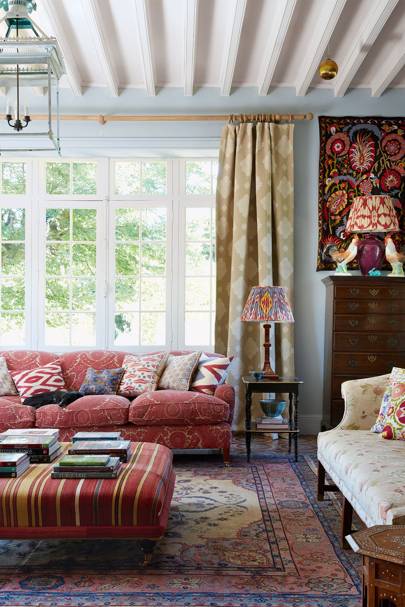 Pale Blue Living Room with Red Sofa
The living room of textiles dealer Susan Deliss' French country home is painted a soft blue, this perfectly counterbalances the busy prints of the fabrics she has chosen to decorate with. The red sofa, from George Smith, looks fabulous covered in a vibrant collection of cushions. This is an eccentric take on the classic French country look.
Like this? Then you'll love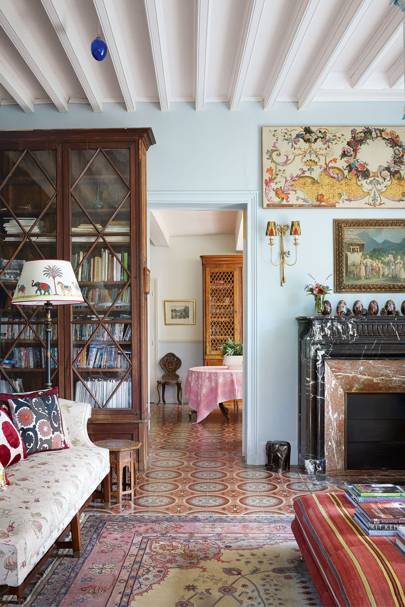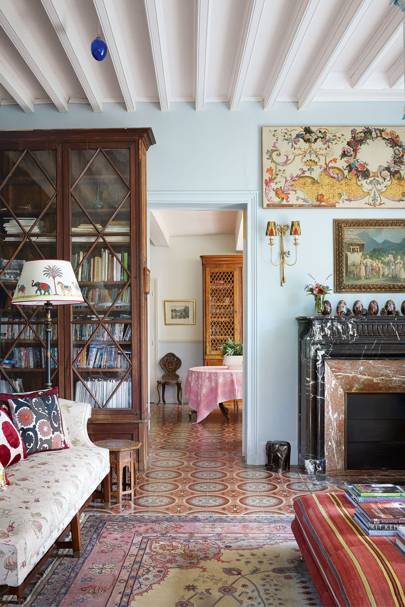 Cosy Blue Living Room
The sitting room of Susan Deliss's house in France has blue walls, which sit in soft contrast with the original, geometric patterned floor tiles. An eighteenth-century French panel hangs over the grand marble chimneypiece and an antique cabinet provides stylish DVD storage. Follow Deliss and make the most of original features: even if they seem a little whacky, the floor in this country living room for example, there is a way to make it work – try toning down another area of the room or opting for plain walls rather than wallpaper.
Like this? Then you'll love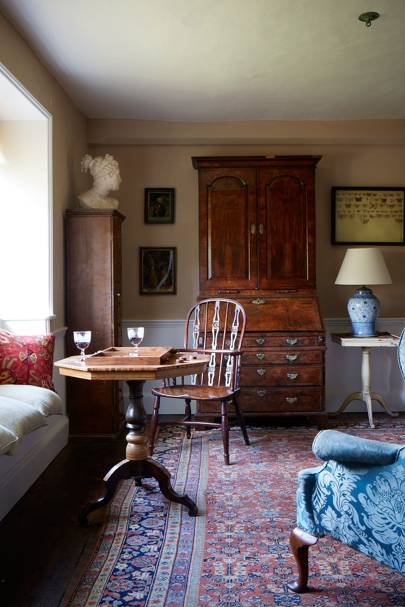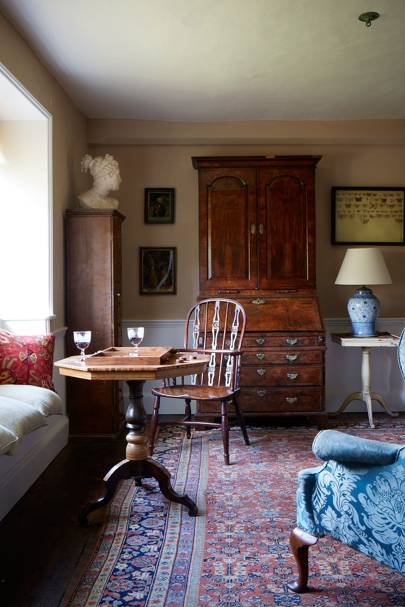 Traditional Living Room with Antique Rug
In his Hampshire farmhouse, antiques dealer and decorator Max Rollitt has chosen to fill his cosy living room with antiques. This creates a lovely lived-in feel that is typical of a country style living room.
Like this? Then you'll love
Get carried away with these dreamy designs for rooms with a view »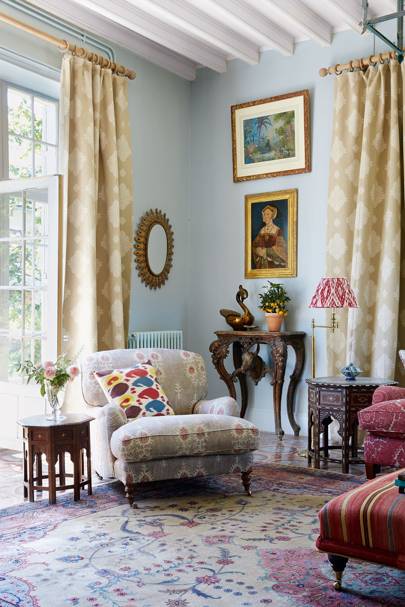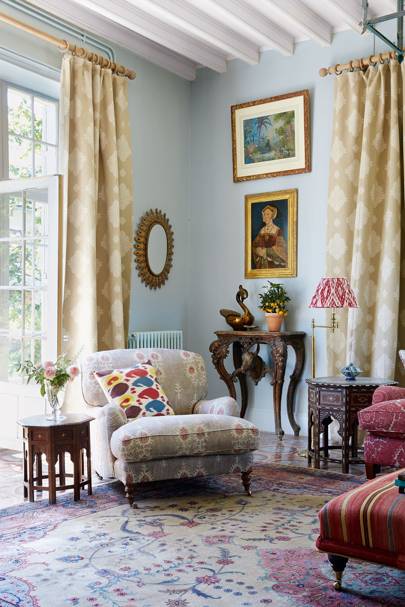 Blue Living Room with Comfortable Armchair
In the blue living room of Susan Deliss' French country house, a striped ottoman is used as a coffee table. Comfortable armchairs and sofas sit next to Moroccan side tables. The scheme is French countryside meets bohemia, traditional with a turn towards the Moorish. This is an exciting interpretation of country style and one that is easy to mimic at home. Get yourself going with the addition of a kilim, then perhaps add some touches of mother of pearl, some rich jewel tones, a flash of paisley, we could go on…
Like this? Then you'll love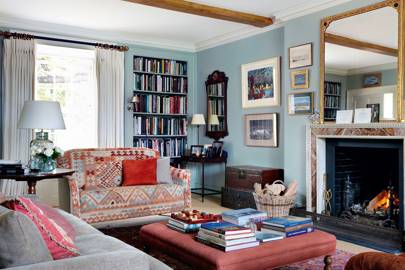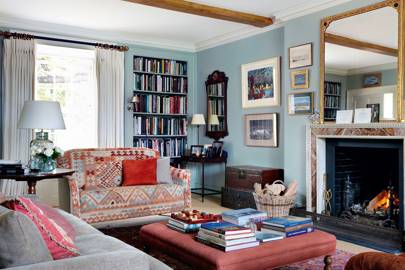 Farmhouse Living Room with Kilim-covered sofa
The living room of Ptolemy Dean's home in Sussex, is painted in Farrow & Ball's 'Light Blue.' This tone clashes wonderfully with the rust red ottoman from Teasal England (used here as a coffee table). In true country style, this room is meant to be comfortable rather than grand. The large mirror above the fireplace was a lucky find from Long Street Antiques in Tetbury and the kilim-covered sofa is from Settle.
Like this? Then you'll love
Make the most of even the tiniest of bedrooms with our useful guide »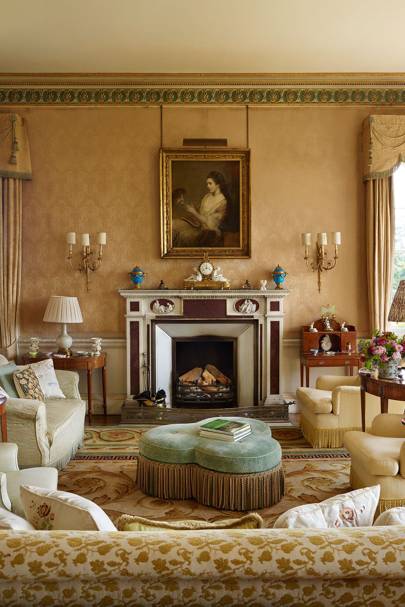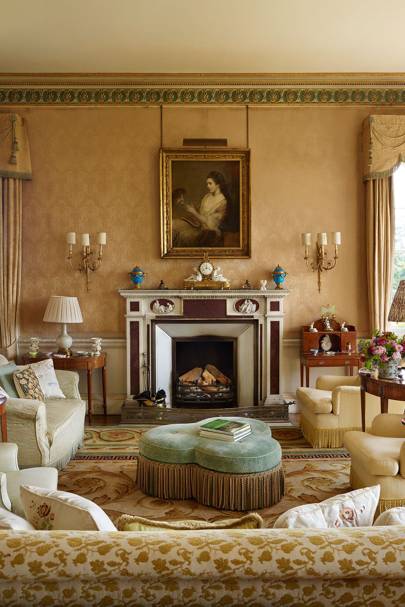 Traditional Living Room Damask Wallpaper
The drawing room at Bowood House, Wiltshire, was designed by John Fowler. The walls are lined in cotton cream damask; a perfect complement to the pretty patterned sofa and cushions. Huge sash windows let in an enourmous amount of natural light. The trefoil stool was added by owner Fiona. You may not be able to copy the grand scale of Bowood but the scheme of soft pastels and gold would work wonderfully in a living room of any shape or size.
Like this? Then you'll love
Our guide to growing strawberries – the fruit synonymous with British summertime »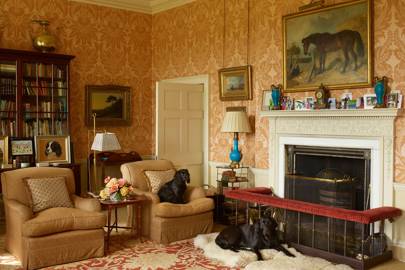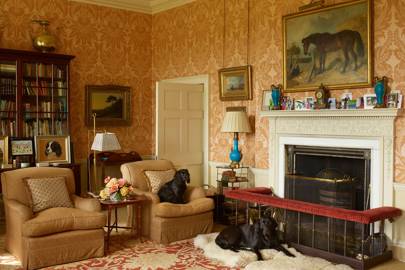 Living Room with Terracotta-toned Wallpaper
In the living room of Bowood House, Wiltshire, the dogs relax on a sheepskins and comfortable armchairs. The animals look relaxed and comfortable, just as you should in a country style living room. The soft terracotta-hued Cole & Son wallpaper was specially printed from its archive collection and the fireplace is surrounded by a traditional club fender.
Like this? Then you'll love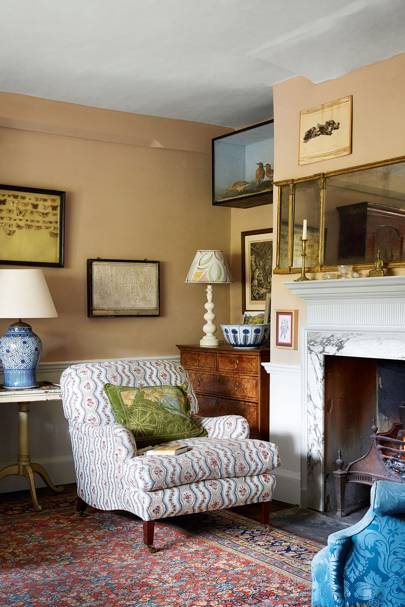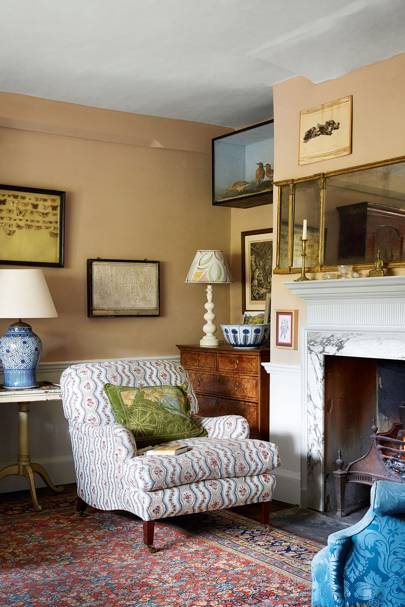 Traditional Pink Living Room
Antiques dealer and decorator Max Rollitt has a living filled with antiques in his eclectic Hampshire farmhouse. The traditional room is painted with Edward Bulmer's 'Lilac Pink.' This is a warm-toned shade, perfect for country houses.
Like this? Then you'll love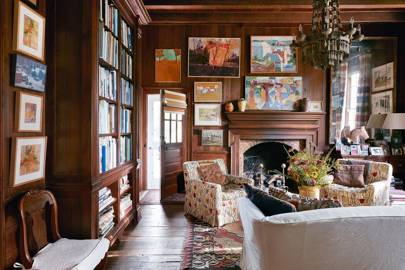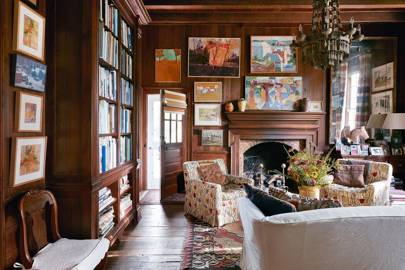 Panelled Living Room with Armchairs
This library can be found in the home of American artist Anne Massie's house is cosy despite the apparent lack of soft furnishing. The wood panelling and floor are both rich in colour, almost red, and this adds warmth to the room. Paintings are hung in gallery style which makes the space feel nicely full. The books, patterned chairs and gorgeous rug are the perfect finishing touches.
Like this? Then you'll love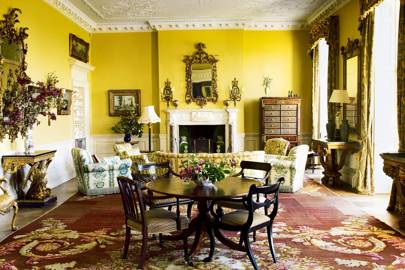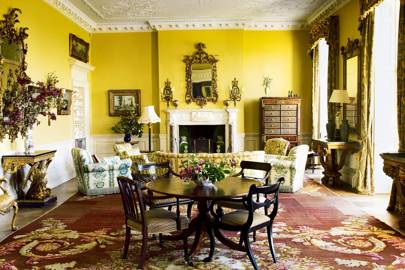 Yellow Country House Living Room
The drawing room at Faringdon House is on the grander side of traditional country style. The sunny yellow of the walls does, however, stop the scheme from being imposing and the lovely brick-red rug bring further warmth into what could be a draughty or austere living space.
Like this? Then you'll love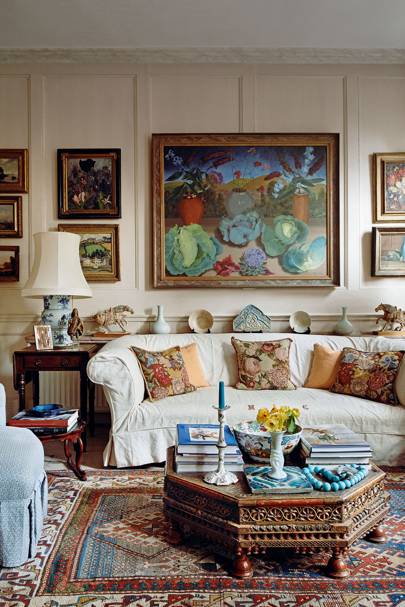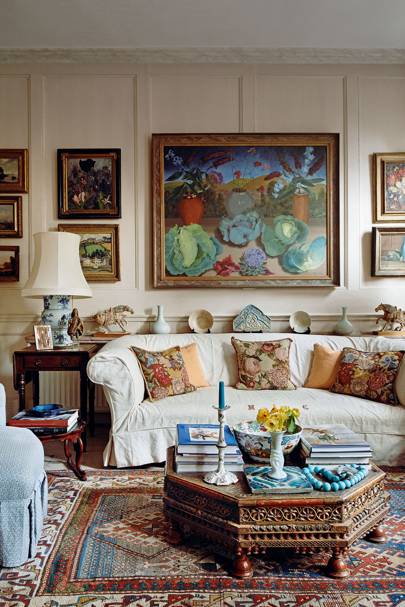 Sofa with needlepoint cushions
In their Twickenham home, Lady Wakefield and her late husband Peter decided to move the drawing room to the first floor. Here, they created a comfortable space with panelled walls and purposely unmatched furnishings that mix well with paintings and objects acquired over the past three decades. The sofa is strewn with a cosy collection of needlepoint cushions. Lady Wakefield proves that you needn't be in the country to achieve the country look.
Like this? Then you'll love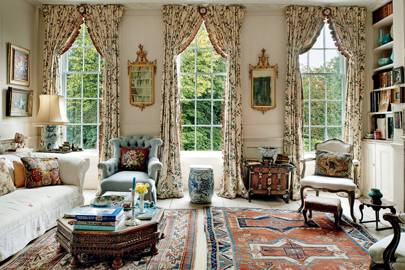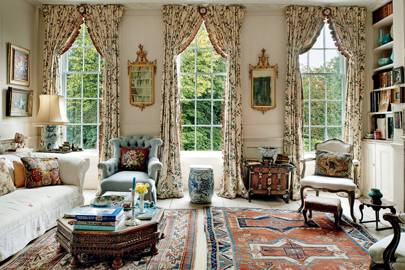 Grey Paint, antiques & Chintz Curtains
This drawing room in the Twickenham home of Lady Wakefield, has three tall Georgian windows that perfectly frame the greenery of the garden. The full-length floral-print curtains from Colefax and Fowler help to bring to outside in. Try traditional florals in your living room for a touch of the countryside.
Like this? Then you'll love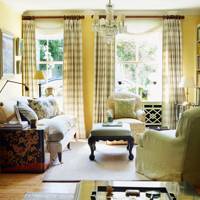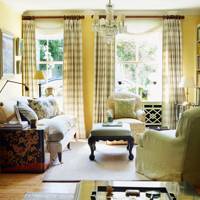 Cosy Cottage Style Living Room
At the back of interior designer Louise Jones' Victorian cottage there is an informal sitting room with views to the garden, the perfect place to finish your book or binge on a boxset. In the original part of the house the living room has a warm palette, with walls painted in a pale ochre by DKT Artworks and complementary checked curtains from Handicraft Haveli in Jaipur.
Like this? Then you'll love
We visit the London flat of our very own columnist, designer Rita Konig
Classic English Living Room With Fireplace & Bookcase
In her London home, Lady Wakefield and her late husband Peter decided to move their drawing room to the first floor. Here, they created a comfortable, country-inspired space with panelled walls and mismatched upholstery. The furnishings mix well with paintings and objects acquired by the couple over three decades. Two rugs from Turkey demarcate separate sitting areas, while bookshelves on either side of the original marble chimneypiece display ceramics from Iran. To replicate this kooky country look at home you don't need a lot of money, just patience and a magpie's eye!
Like this? Then you'll love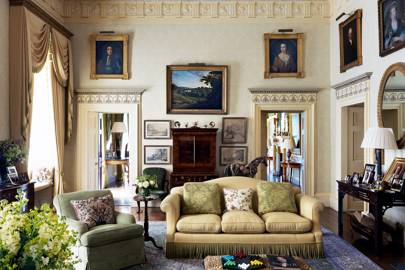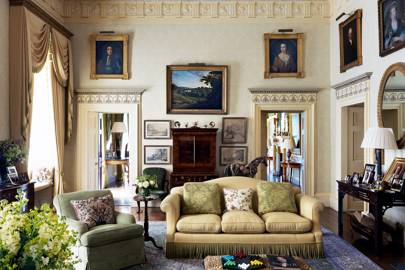 Grand Living Room With Traditional Furniture
In the morning room of Ugbrooke Park, a sofa and armchair, both covered in fabrics from Claremont, are positioned around an ottoman topped with a leopard-print rug. A column lamp from Vaughan sits on the console table at the side of the sofa. The overall effect is countryside meets luxury.
Taken from the December 2015 issue of House & Garden.
Like this? Then you'll love
Give your furniture a glorious new coat this season with our upholstery guide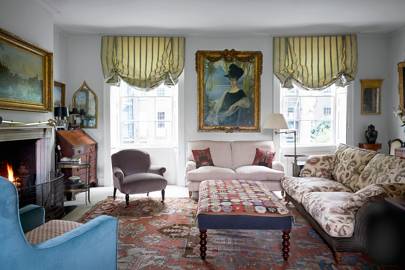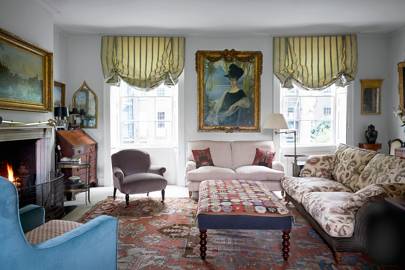 Grey Living Room With Georgian Furniture
In the drawing room of Clare Mosley's Georgian house, the atmosphere is warm and cosy, especially with the fireplace lit. Chimneypieces were truffle-hunted from the backyards of various dealers in north London, since the owners were very particular that these should be of the same period as the house. The light in front of the right window was once an aspidistra stand, which Mark converted. The sofa is from George Sherlock.
Taken from the January 2016 issue of House & Garden.
Like this? Then you'll love
Browse hundreds of inspirational design ideas and images for your kitchen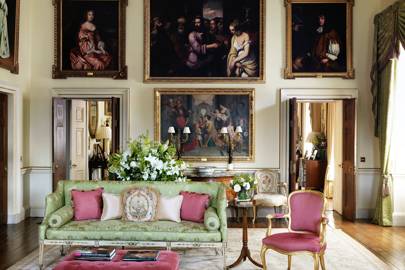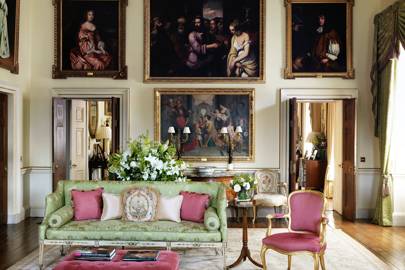 Antique Furniture & Oil Paintings
In the drawing room of Ugbrooke Park, the frames of the eighteenth-century sofas still have their original green paintwork. Clarissa chose to replicate this shade on the fabric covering the sofas, commissioning Gainsborough Silk Weaving Co to recreate it on an archive damask design.
Taken from the December 2015 issue of House & Garden.
Like this? Then you'll love
Isabel and Julian Bannerman's garden in the grounds of a castle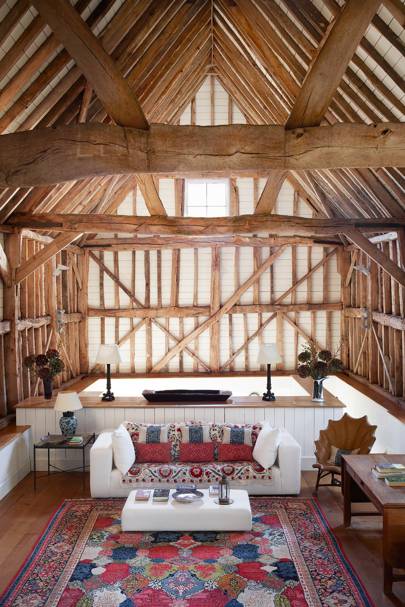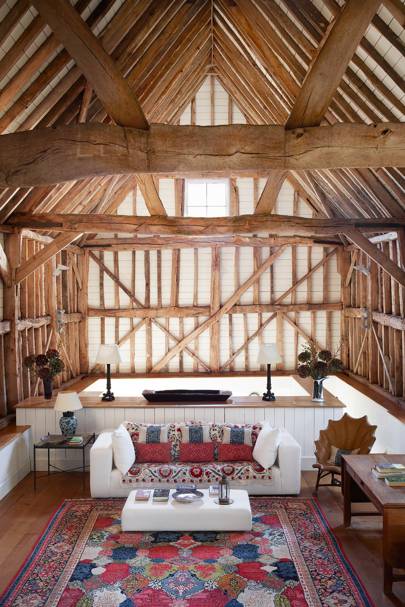 Farmhouse Barn Living Room
An array of supporting beams on a much larger scale were revealed during the restoration of this barn; these became the focus of the decoration scheme. The barn now has a mezzanine bedroom, kitchen, bathroom and sitting room, and is completely separate from the main house. There is something innately country-style about exposed beams whether they be in a Tudor cottage or vast converted barn – make the most of yours today!
Like this? Then you'll love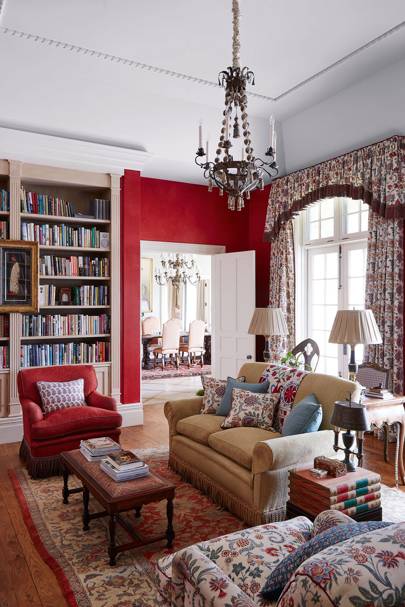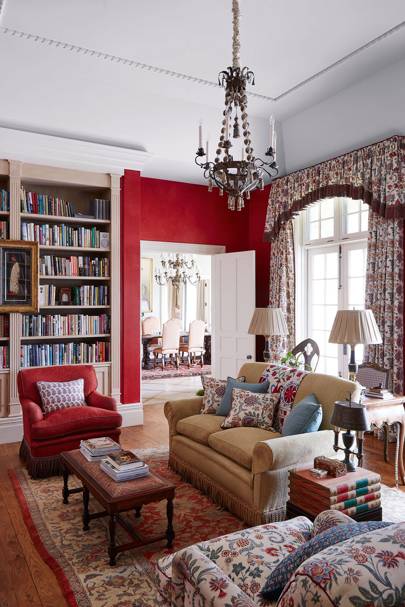 Red Country Living Room
Numerous intricate patterns work well against bold red walls in this library-cum-sitting room, while a rug gives a cosy feel to the reading area. Click to see the rest of this New Zealand house.
Taken from the October 2015 issue of House & Garden.
Like this? Then you'll love
17 ideas for curtains and blinds hand-picked by our Decoration Director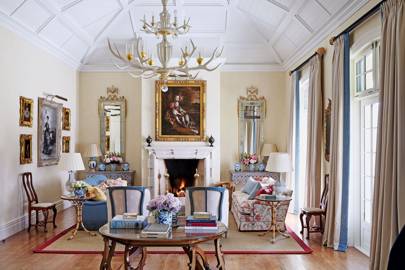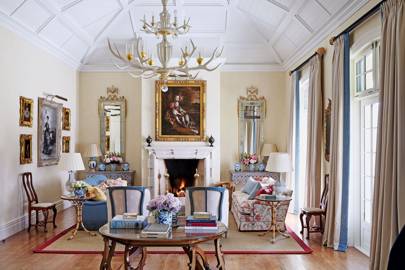 Elegant Country Living Room
Feminine furniture and decorative details give this drawing room a comfortably elegant feel. The striking antler-design chandelier made by Frank Howell in Sydney is a nod to Jamie's Scottish roots, while the floral upholstery and chestnut flooring add warmth to the room. The table, which is in two halves, comes from Spain and the curtains, chosen by the interior designer Colin Orchard, were created by the London-trained, Auckland-based curtain maker Robert Andrews.
Taken from the October 2015 issue of House & Garden.
Like this? Then you'll love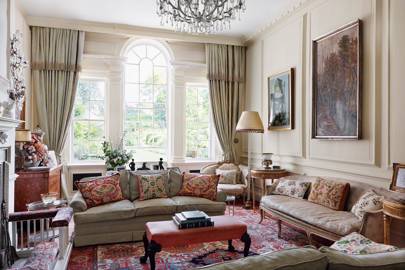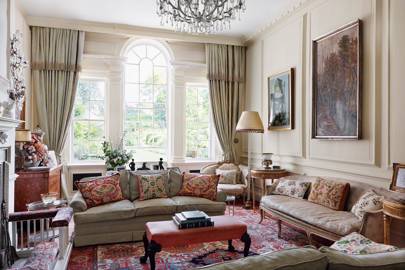 Traditional English Scheme
The drawing room of the Ludlow house designed by Caroline Harrowby has a traditional English country feel. This is achieved through small touches such as the curtains which are in a Colefax and Fowler fabric. The floral-print and embroidered cushions add colour and a welcome hint of the unexpected.
Taken from the May 2015 issue of House & Garden.
Like this? Then you'll love
George Smith Sofas
The elegant drawing room in the Inchyras' country estate has large, comfortable sofas from George Smith, panelled Dutch oil paintings and a chandelier that belonged to James's grandparents. This is a lesson in how to meld comfort with class – Smiths' sofas are soft and inviting while the family heirlooms bring with them a legacy of grandeur. Try this juxtapostion at home today!
Like this? Then you'll love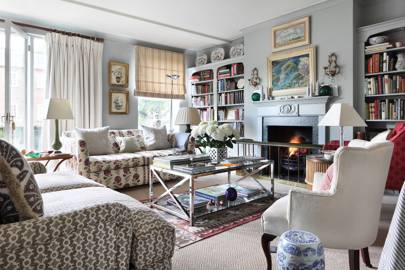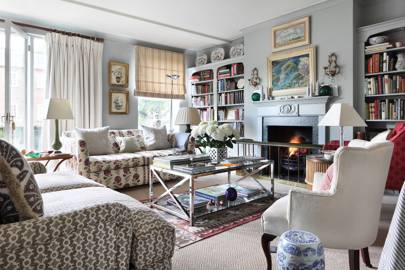 Grey Walls & Mixed Fabrics
A simple colour palette of pale-grey is lifted by the mix of fabrics that decorate the cushions on the elegant sofas. The arched bookshelves and collection of paintings instantly add a pop of character. The large windows allows plenty of light in. This room has the airy feel of a country living room despite it's central London location.
Taken from the January 2015 issue of House and Garden.
Like this? Then you'll love
A tour of our legendary locations editor Lavinia Bolton's Chelsea flat »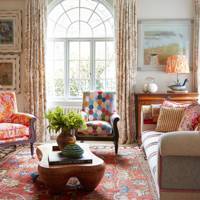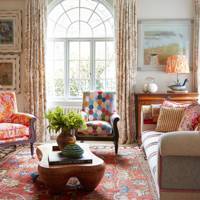 Layers of Colour, Pattern & Texture
'Comfort, colour and a certain carefree attitude are the hallmarks of a good interior', says Kit Kemp, designer of London's hotel of the moment. Kit created this 'layered' style living room, which echoes the eclectic feel of a country living room, by mixing colour, pattern and texture. The handcrafted fabrics and mix of artwork on the walls add life and orginality to the room.
Like this? Then you'll love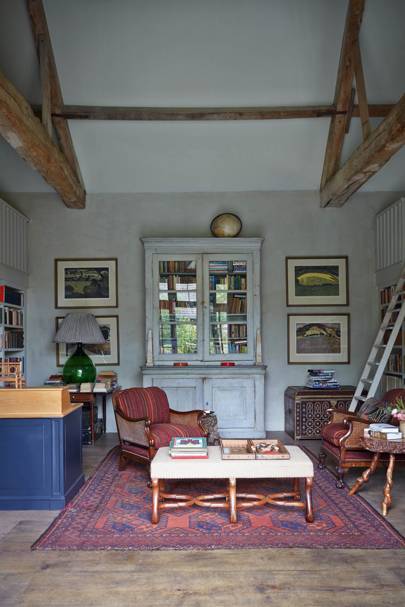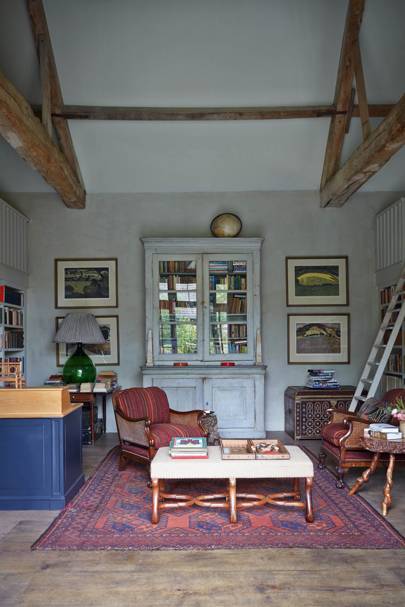 Glass-Fronted Bookcase
Wanting a place to display her treasured book collection, Emma Burns, senior decorator at Sybil Colefax & John Fowler, transformed a converted barn at her country home into a library and guest cottage full of hidden suprises and witty details. The sitting room is flanked by shelves on both sides. The glass-fronted bookcase is from Robert Kime, while the pair of armchairs are upholstered with jajim rugs. See the full story of Emma's cottage here.
Taken from the February 2014 issue of House & Garden.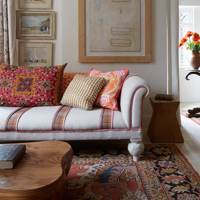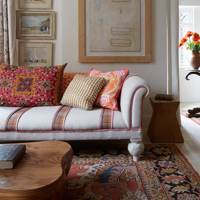 Modern Country Scheme with Striped Sofa
When it comes to mixing pattern and colour, hotel designer Kit Kemp – who is behind Ham Yard – is an expert. In her own drawing room (shot for the July 2013 issue of House & Garden), Kit paired a patchwork carpet from the The Rug Company with a striped sofa and an array of patterned cushions. The result is pure modern country chic.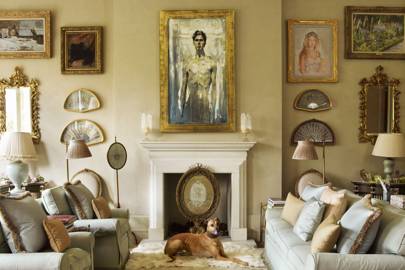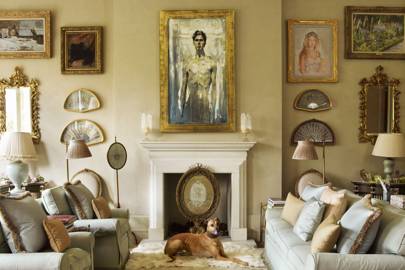 Traditional Cream Living Room
In Serena & William's Foyle's ravishing Cadogan Square apartment, one of William's early self-portraits hangs above the chimneypiece in the drawing room. It is offset by a mixture of traditional and more modern paintings, as well as several eighteenth-and nineteenth-century fans. The cream scheme screams elegant country style.
Taken from the October 2014 issue of House & Garden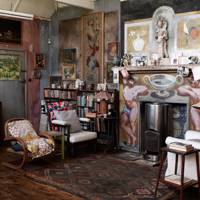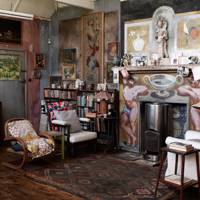 Unusual Country Living Room
Painted figures and objects cover the walls of the living room of Charleston, the low-ceilinged old farm house and country retreat of the Bloomsbury Group, and former child hood home of Quentin Bell – artist, writer and nephew of Virginia Woolf – the father of the artist Cressida Bell, whose work is still influenced by the art that covers every surface of the house.
The Bloomsbury Group – that amorphous circle of writers, intellectuals and artists who lived and worked in Bloomsbury before the first World War and beyond – spent much of their time at Charleston after 1916, the year that Quentin's mother, Vanessa Bell, and the painter (and Vanessa's lover) Duncan Grant took a long lease on the house, where they remained until Vanessa's death in 1961 and Duncan's in 1978.
Almost as soon as Vanessa and Duncan moved into Charleston, they began to paint, not just on canvas, but over every available surface – walls, of course, but also tables, chairs, bed heads and bookcases; all glowed with swirls and spirals of colour and pattern, full of life and vitality, that was as far from the conservative, conventional monochrome interior decoration of the time as it was possible to be.
From the June 2010 issue of House & Garden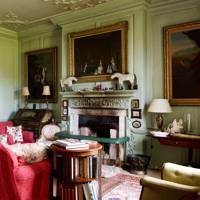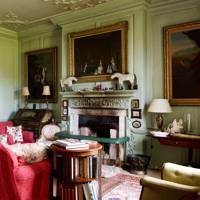 English Country House Style Room
Authentic, English country house style is hard to replicate. It is a look that manages to be both timeless and livable, grand but friendly. Having cut her teeth at Colefax & Fowler it is little wonder then that interior designer Vivien Greenock has managed to get the look spot on in her own home.
A plethora of pattern – chintz, checks, muted stripes – and strong carpets, soften the eighteenth century paneling, which is painted a shade between duck egg blue and watery green – darker below the dado rail and lighter above. Pictures are perfectly hung. Large imposing portraits on the walls; and small charming watercolours in tight groups around the fireplace.
Though the room is filled with a plethora of 'stuff ' – pictures, objects, furniture – there is not a jarring note among the crowd. 'Too often the English country look is anonymous – like a country-house hotel,' says Vivien. 'I don't think you can really get the right look without using old things – rugs, paintings and antiques. It is those things that give a room a permanent look, and a depth of feeling. I don't think the things have to be grand – much of the stuff here I have just collected over time – but I do think you have to have a bit of an eye.'
From the July 2014 issue of House & Garden
Like this? Then you'll love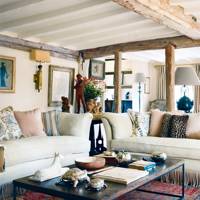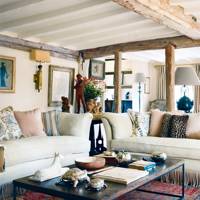 Unique Country Cottage Living Room
Display what you love, even if it seems out of context. Curiosities in this drawing room belonging to interior designers Philip Vergeylen and Paolo Moschino include two of Paolo's collection of silver tortoises. These curiosities add interest to an otherwise quite traditional country style in the living room.
Taken from the March 2013 issue of House & Garden. Additional text: Tristram Holland.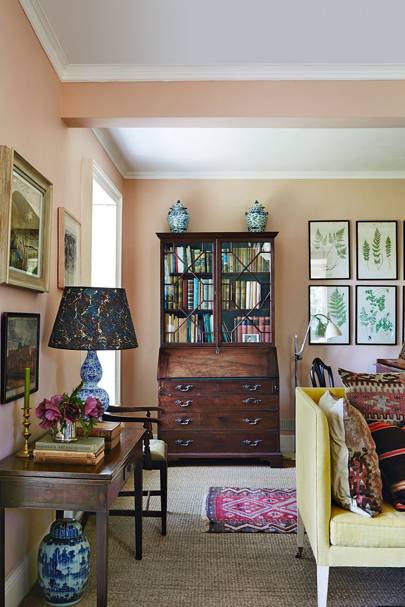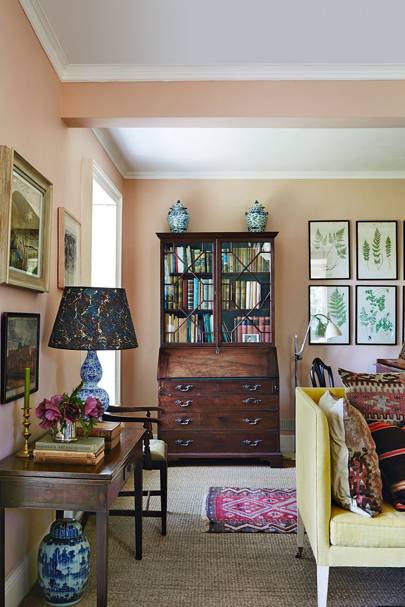 Country Style with Georgian Furniture
Simple pieces of Georgian furniture, including a glazed bureau bookcase, have been used in the living room of interior designer Ben Pentreath's country house.
Like this? Then you'll love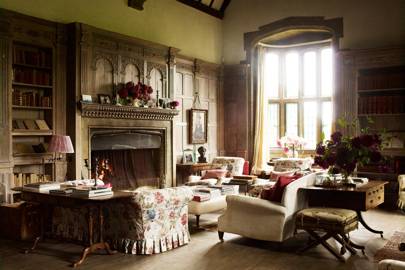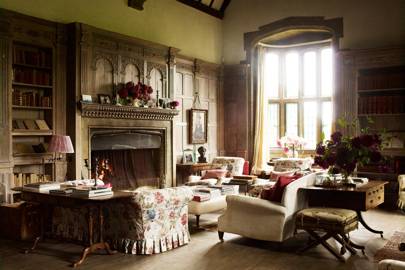 Wood-Panelled Living Room
Wood panelling in the sitting area of the library of Wardington Manor the family home of Bridget Elworthy and now the base for The Land Gardeners' new business venture into cut flowers. Chintz sofas surrounding a grand wooden fireplace make this large space feel cosy and warm. Large windows and cut flowers ensure the dark space is kept bright.
Like this? Then you'll love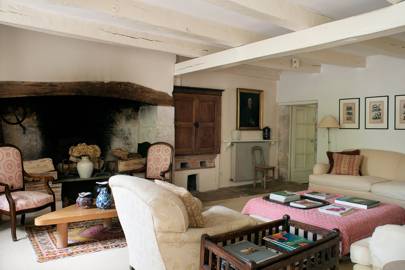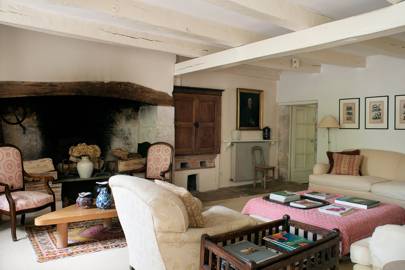 Rustic French Living Room
After visiting Kathryn Ireland in France's Tarn region, Anne Halsey bought a French farmhouse retreat there and enlisted the help of her friend and fabric guru Kathryn to create a relaxed retreat perfect for entertaining. The sitting room is decorated in a mostly neutral scheme, with Kathryn M Ireland's 'Quilt' fabric on the armchair and 'Tonal Ticking' on the sofas.
Like this? Then you'll love
Exposed Brick Living Room
An exposed brick or stone wall does not just add texture to an interior – it can also firmly position the building within its surrounding landscape. The converted barn pictured above has a backdrop that speaks of its agricultural history, while allowing modern pieces such as the John Minshaw-designed cast-bronze lamp and Paolo Buffa table to stand out.
Like this? Then you'll love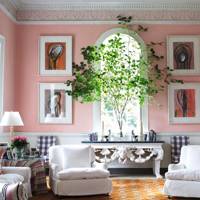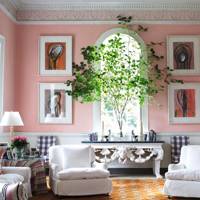 Pink Living Room with Indoor Tree
It takes courage to combine pink walls with eighteenth- century plasterwork, an orange patterned rug, textiles that call to mind Liquorice Allsorts and Georgian reproduction furniture. But it certainly works in this magnificent house. The paintings are by Robert Doble.
Like this? Then you'll love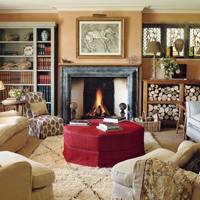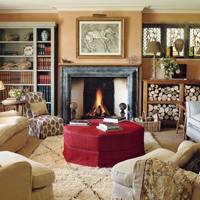 Living Room with Log Storage
The furniture arrangement in this cosy living room couldn't be better for encouraging convivial gatherings. Robert Kime is a friend of the owner and helped him decorate this house near Dartmoor. While the colours veer towards the neutral end of the spectrum, the bold red ottoman is a strong centrepiece.
Like this? Then you'll love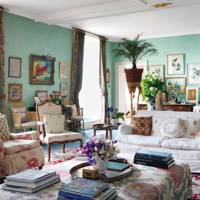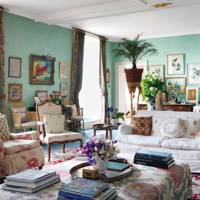 Bright Green Living Room
The drawing room of Holker Hall in Cumbria has a layered look built up over generations. While time is an invaluable ally of this aesthetic, a considered approach to buying furniture and decorative accessories can speed up the process. This room features nineteenth-century Cantonese watercolours, suzani textiles and chintz, silk damasks and gloriously ornate eighteenth-century plant stands.
Like this? Then you'll love: Kitchen Ideas | How to Decorate a Hallway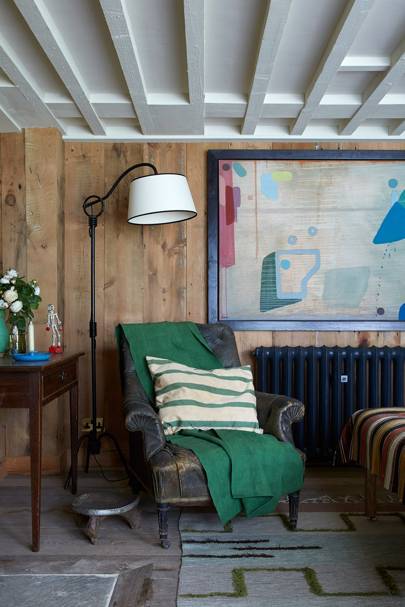 Barn Conversion Living Room
A large painting by Irish artist Martin Finnin hangs in the living room of a tiny barn on the edge of a Gloucestershire meadow, decorated by antiques dealer and designer Christopher Howe. The space is filled with varied treasures collected by the designer, providing its owners with an idyllic and rustic country bolt-hole.
You might also like: 100 Interesting Ways to Hang Art