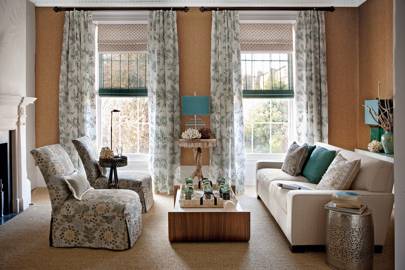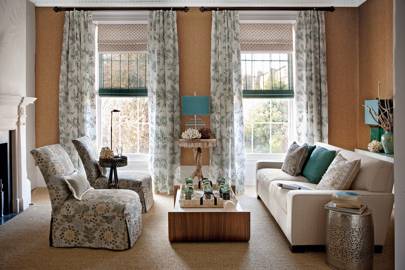 Layer up
A reeded pole houses a concealed track for a cleaner look. The layered effect of a pinoleum blind, a roman blind and light linen curtains in 'Lamerton', £105 a metre, from Colefax and Fowler, is a great way to pack in textiles without creating an overcrowded look.
If you like this, you'll love
The head decorator of Colefax has turned her barn into a reading room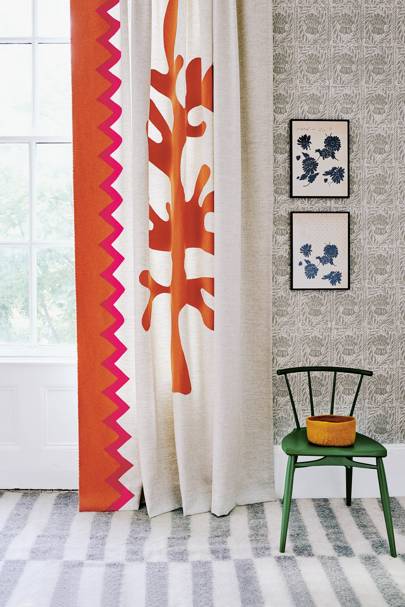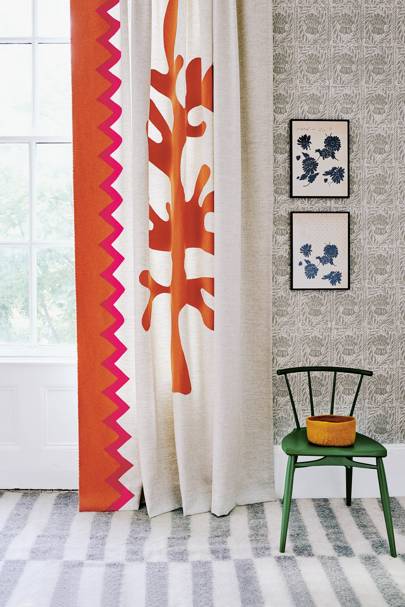 Bold Orange & White Wool Curtain
In this scheme by House & Garden decoration director Gabby Deeming a coral design – reminiscent of the artist Matisse's paper cuts – has been applied to a pale wool curtain.
WALLS Wallpaper, 'Cornstocks' (french grey), by Blithfield & Company, £64 for a 10-metre roll, from Tissus d'Hélène. Curtain, 'Diamond Twill' (natural), wool, £75 a metre, from Ardalanish; with coral design in 'Carrick' (amber), wool, £69 a metre, from Mulberry Home; and pink trim in 'Mont Blanc' (10548/40), wool, £56.50 a metre, from Nobilis.Prints from top: 'Pignier Toulouse 1 and 2', £235 each, from Natural Curiosities. Frames, 'Milano', 40 x 30cm, £20 each, from Habitat.
FLOOR Wool felt rug, 'Kabru Radhi', 225 x 175cm, £460, from Stitch by Stitch.
FURNITURE Painted wood chair 'K02', by Koji Katsuragi, 74 x 52 x 36cm, £578, fromSitting Firm.
ACCESSORIES Wool felt bowl, 'Cache Vase' (moutarde), e14, from Muskhane.
Like this? Then you'll love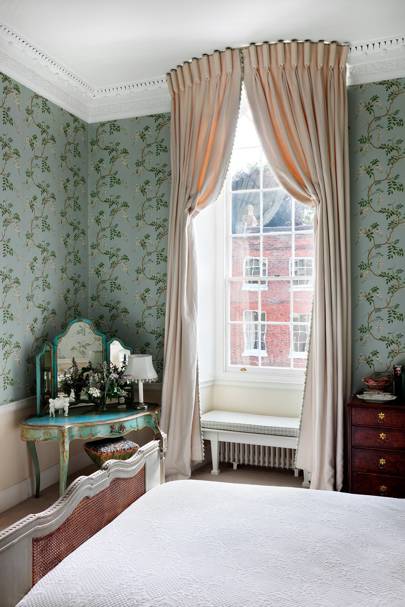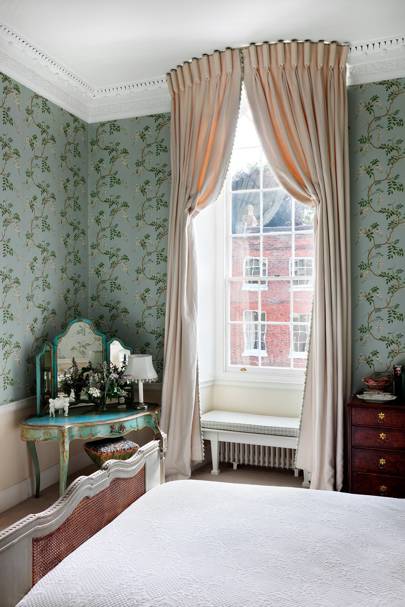 Elevated style
These Italian strung curtains, in the bedroom of a Ludlow townhouse designed by Caroline Harrowby, have a goblet-pleated header design. They are fixed in position at the top and then drawn up and down using a cord. The look is quite traditional and very pretty.
Like this? Then you'll love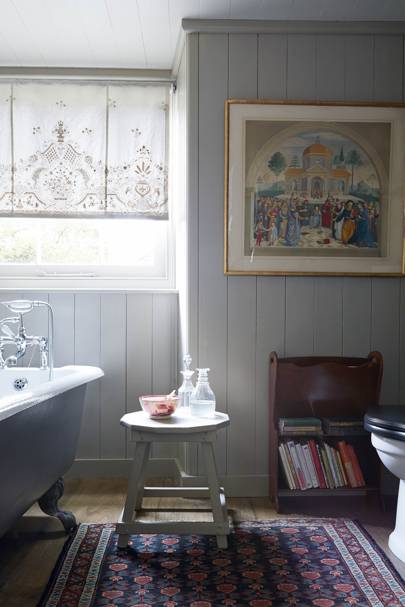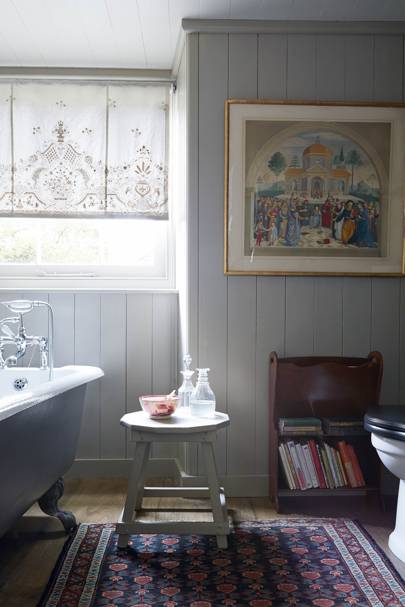 Roll up
This blind is an unstiffened roller in 'Wheat Ears and Scrolls Border', £580 a metre, an embroidered cotton panel from Chelsea Textiles. 'It is particularly pretty with the light coming through, which is good for a bathroom,' says designer Emma Burns of Sybil Colefax & John Fowler.
Like this? Then you'll love
The very best patterned fabrics with borders to make blinds out of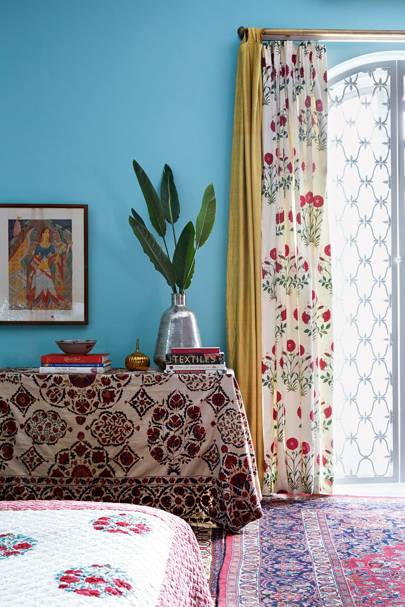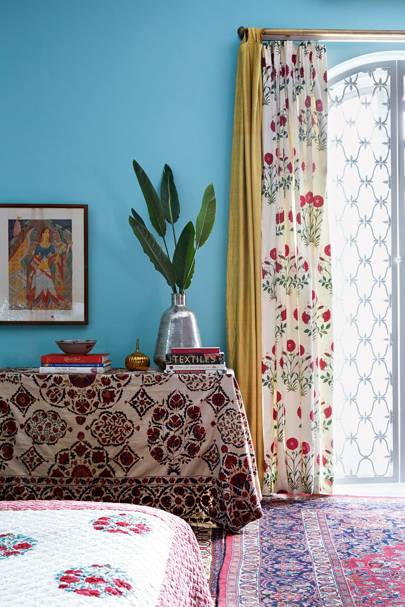 Poppy Prints
The spare room in Anita Lal's Delhi house has a quilt and curtain in traditional block-printed poppy prints. The 'Bagh e Bahar Razai' quilt from Good Earth is similar.
Taken from the November 2015 issue of House & Garden.
Like this? Then you'll love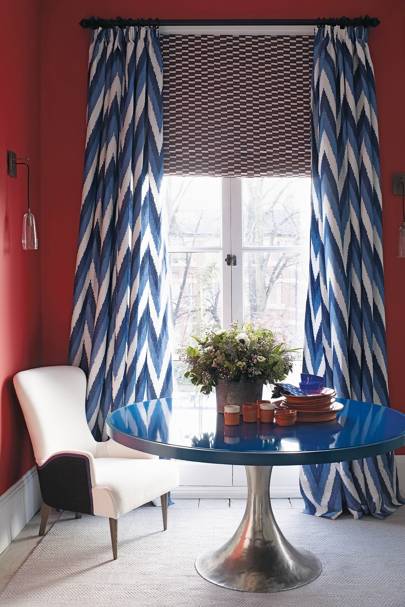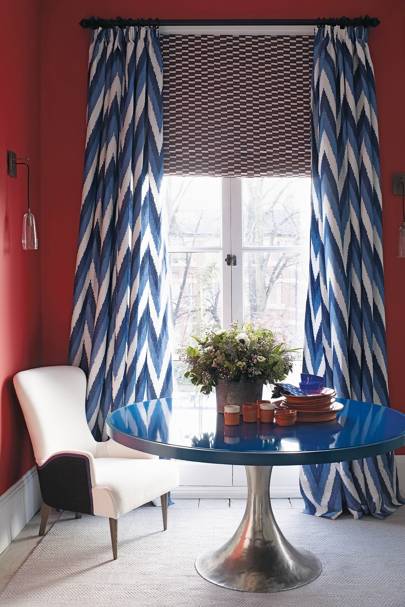 Centre stage
This 'Deniz' linen/cotton from Lee Jofa at G P & J Baker, £115 a metre, is no shrinking violet, so using a pencil pleat heading works well. Combining the curtains with a roman blind in a small pattern creates a decorated look, but the simple shapes stop it looking fussy.
If you like this, you'll love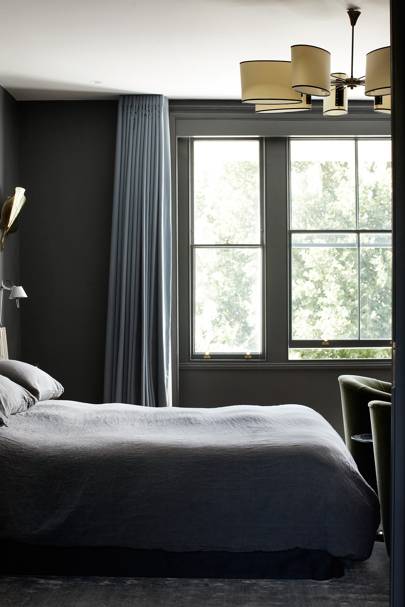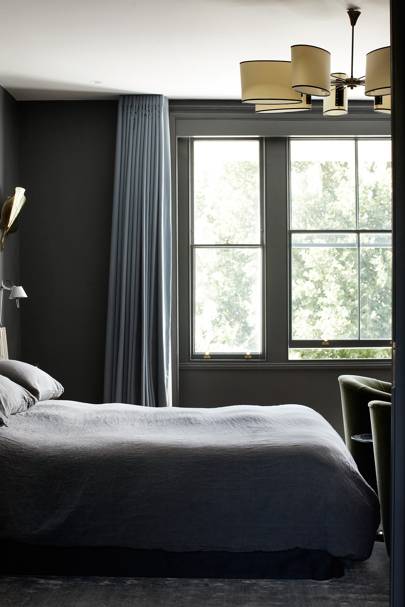 Time for recess
The owner of this bedroom wanted a moody feel, so designer Suzy Hoodless hung grey linen curtains with large pencil pleats from a recessed ceiling track. This keeps out the light and is neater than a pole. Try Silent Gliss for track, from £15.98 for 125cm.
If you like this, you'll love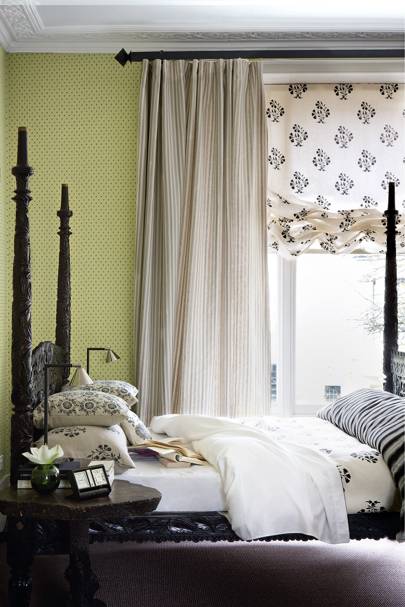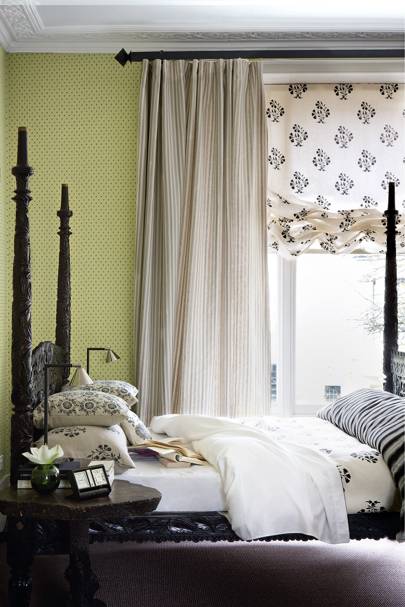 Back in fashion
Ruched blinds are shaking off their Eighties associations and making a comeback. Some rooms require a relaxed edge and these provide that softness. This one is in 'Sophie' from Borderline, £76 a metre – a simple linen print that looks charming and not at all like a Viennetta.
If you like this, you'll love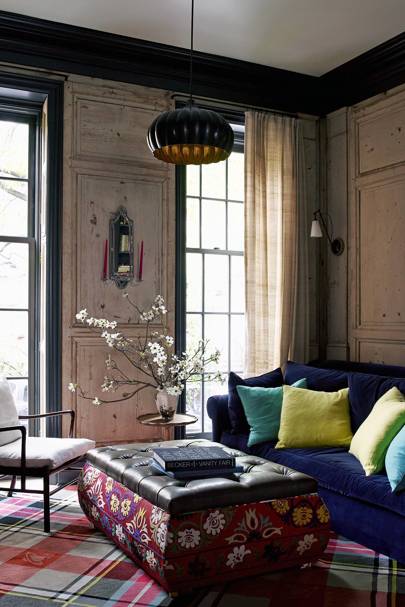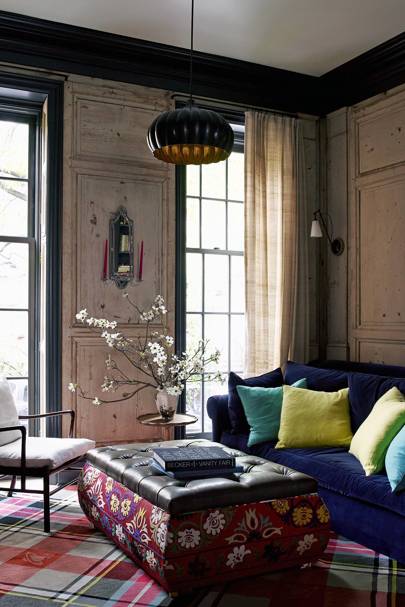 Natural habitat
These raw silk curtains, designed by Poonam Khanna for B W Architects, blend well with the wood panelling to create a barely-there look in this Manhattan townhouse. A slim header tape, gently gathered, keeps the look simple.
If you like this, you'll love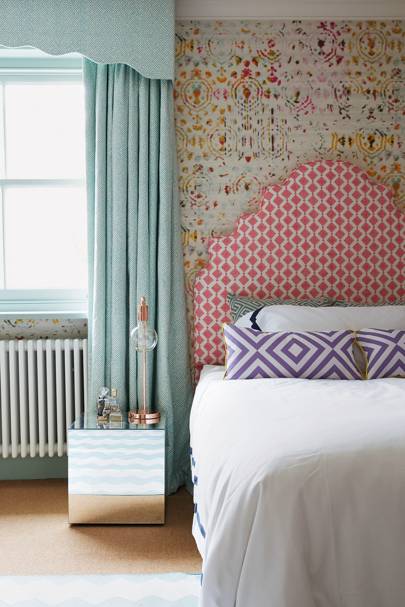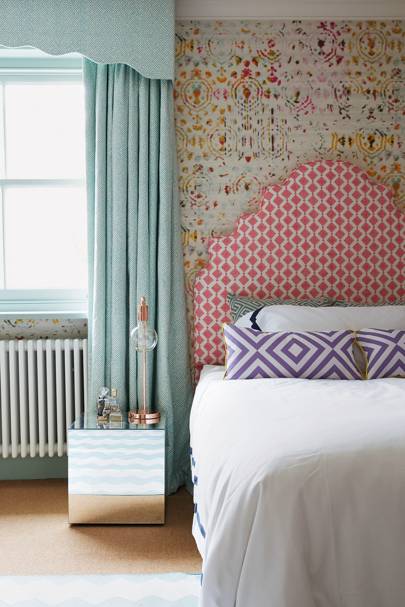 Plain perfection
In this children's bedroom by Henri Fitzwilliam-Lay, a fixed and shaped box pelmet with curtains in a pale blue fabric is a smart choice in both senses of the word; it will not be quickly outgrown as children become teenagers and it looks modern and elegant.
Like this? Then you'll love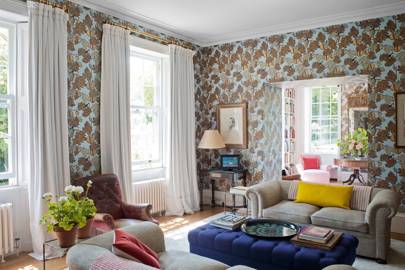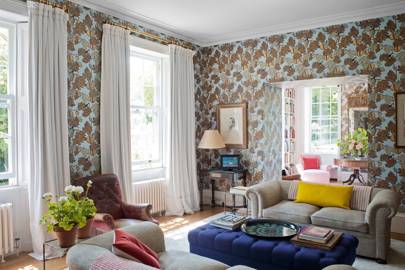 Vintage charm
These antique linen curtains have an unusual shirred pencil-pleat heading, which is created using shirring tape. The result is a pleasingly gathered look that is similar to – but softer than – a plain pencil pleat. Parna is a great source for antique linen, from £60 for a 208 x 126cm sheet.
If you like this, you'll love
Harriet Anstruther's Sussex farmhouse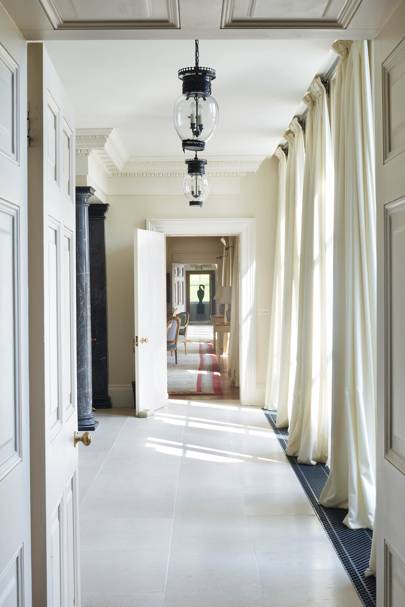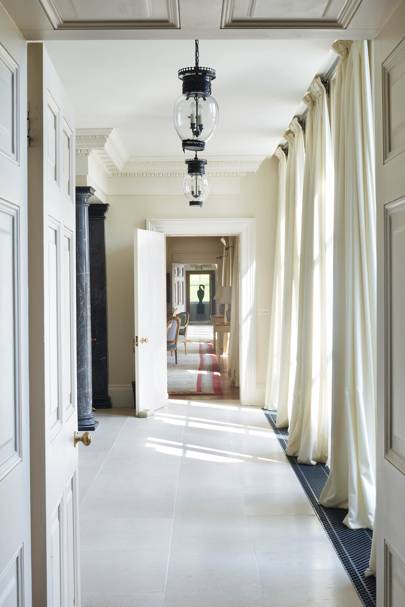 High rise
A bank of floor-to-ceiling windows in this house in the West Country has been dressed by designer Hugh Henry, of Mlinaric, Henry & Zervudachi, in cream linen for a look of understated grandeur. For similar, ask for a hand-gathered heading with soft stand-up and a length that 'breaks' on the floor.
If you like this, you'll love
A tour of our legendary locations editor Lavinia Bolton's Chelsea flat
Plain sailing
Designer Amanda Hornby has toned down these patterned walls with duck-egg blue interlined linen curtains with triple pleat headings, hung from a simple white pole. If you are undecided about the amount of fabric falling on the floor, try slightly 'baggy trousers' as shown.
If you like this, you'll love
A tour of our legendary locations editor Lavinia Bolton's Chelsea flat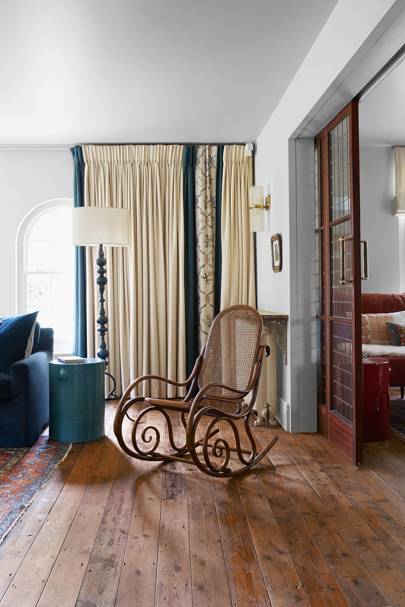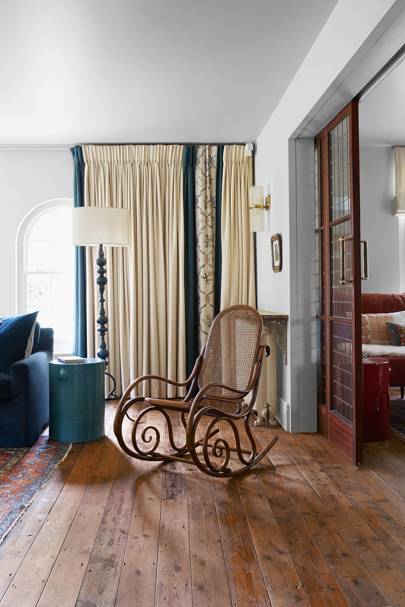 Crewel trick
Designer Maria Speake of Retrouvius often uses antique textiles as a starting point for window dressings; in this instance, the embroidered panel is an early form of crewelwork, combined with natural and teal coloured linens to make a single curtain 6.5 metres long.
If you like this, you'll love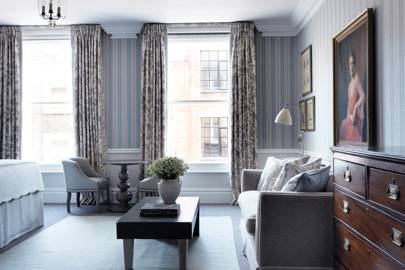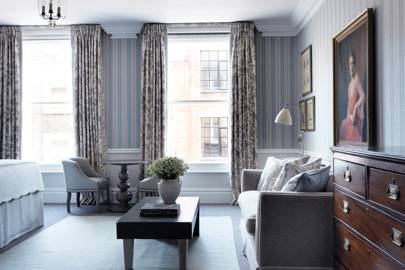 run for cover
A fabric-covered track, known as a lath and fascia, reduces the light that comes through, so is effective in bedrooms and on bay windows. Kit Kemp has used Bennison Fabrics' 'Cherry Tree' linen, £197 a metre, in this bedroom at the Covent Garden Hotel.
If you like this, you'll love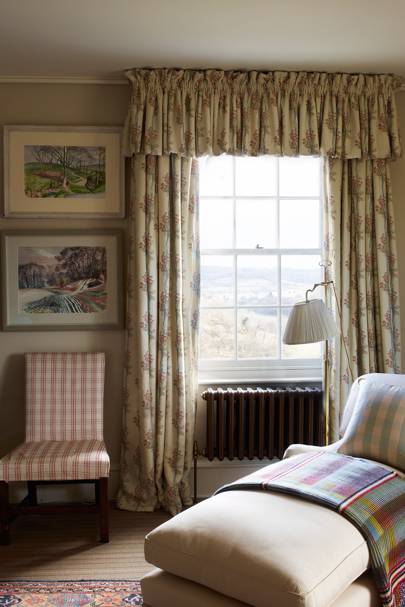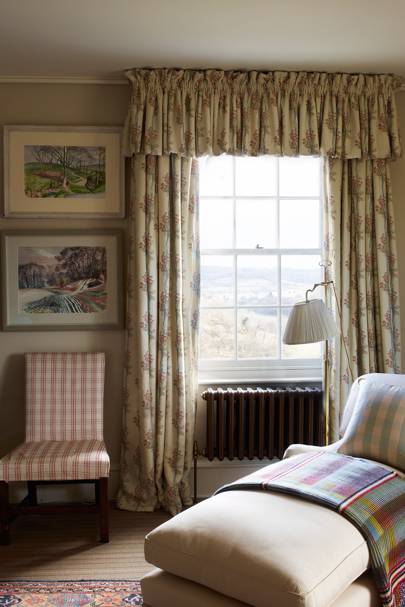 Gather together
The soft gathered pelmet and thick jacquard curtains in this bedroom, designed by Piers Westenholz, are perfect for a country bedroom. When rooms are not especially high, it looks good if the pelmet goes right up to the ceiling, as seen here.
Like this? Then you'll love
Legendary decorator and arbiter of style Veere Grenney reveals his secrets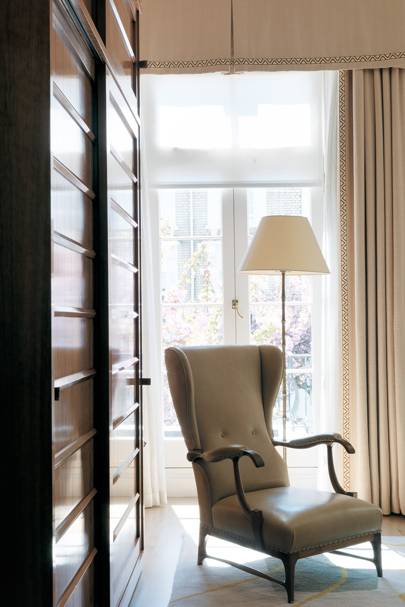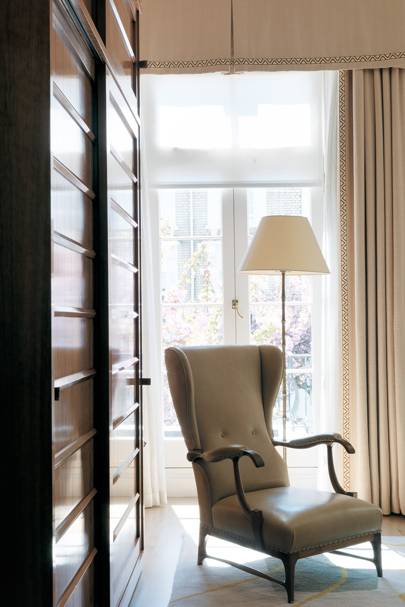 Neutral territory
For this pelmet and curtains, designer Hugh Leslie chose a plain textured linen and inset a decorative braid for detail. The central pleat on the pelmet prevents the whole thing from looking too flat. A design where the central third of the pelmet is longer than the sides also looks good.
Like this? Then you'll love
Take a peek at the most stylish glass structures and chic conservatories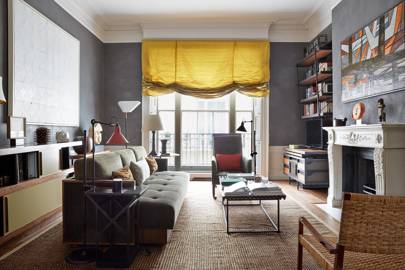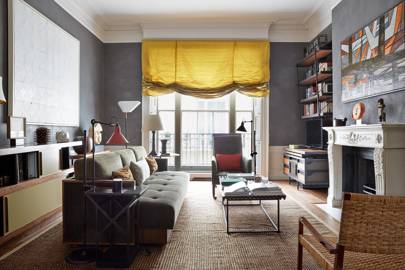 Say yes to yellow
There are many reasons why this silk taffeta blind is so successful in this Mayfair flat. The yellow adds punch to the room, and designer Chester Jones points out that 'the unlined fabric allows light to filter through for warmth during the day, yet is sufficiently opaque for privacy at night'.
Like this? Then you'll love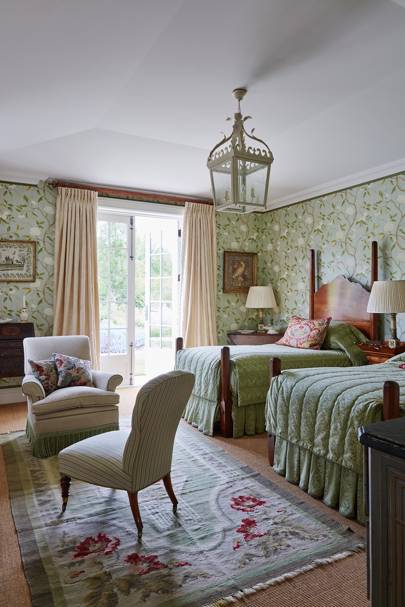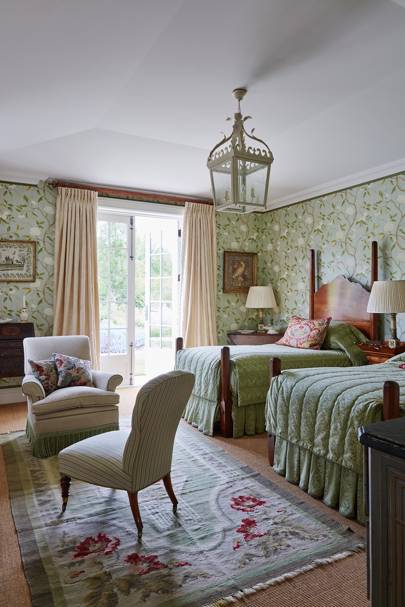 Plain Pairing
This twin bedroom is lined with Colefax & Fowler 'Snow Tree' wallpaper, a classic featuring a twisting vine and white blooms. Plain cream curtains are the perfect pairing as they add a modern touch and prevent chintz overload.
Taken from the October 2015 issue of House & Garden.
Like this? Then you'll love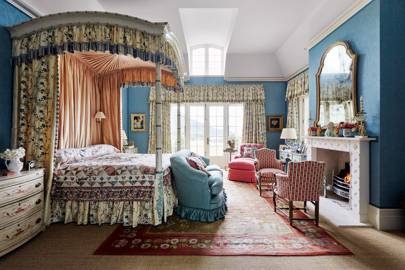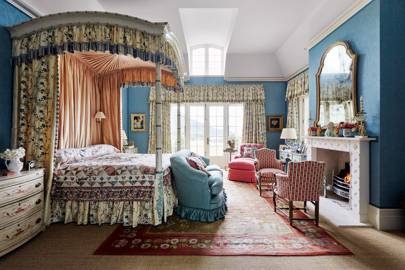 Glorious Tradition
Interior decorator Colin Orchard is a stickler for curtains. For this house in New Zealand he tracked down a London-trained curtain maker working in Auckland who had previously done work for Colefax & Fowler. Here in a bedroom the curtains are made with Colefax and Fowler fabric with a ruched pelmet trimmed with tassels. This grandeur is echoed in the dressing of the four poster.
Like this? Then you'll love
Make the most of even the tiniest of bedrooms with our guide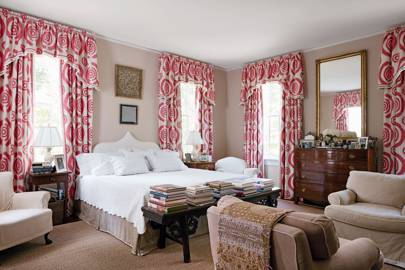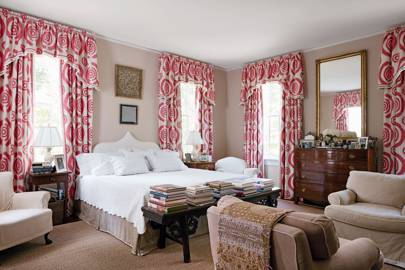 Patterned Bedroom Curtains
Bright curtains add colour to the otherwise main bedroom in the Virginia home of artist Anne Massie. The fabric is Penny Morrison's bold 'Haveli' linen, custom dyed Annie's favourite shade of pink.
Like this? Then you'll love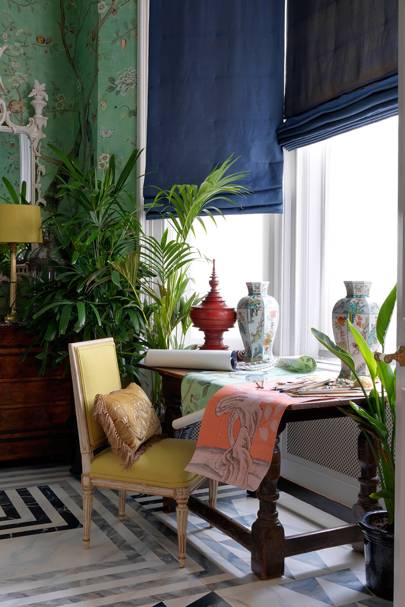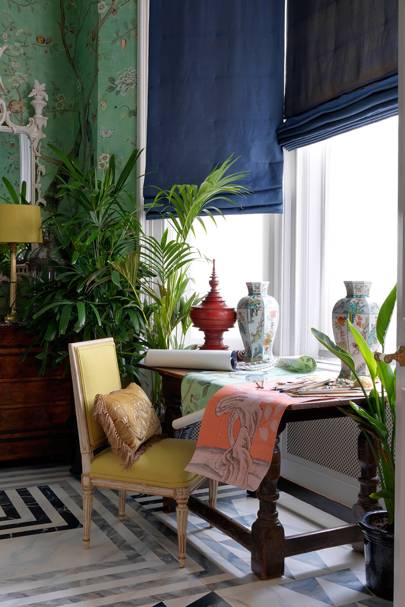 Dark Blue Blinds
This London flat is a feast of pattern. The table is placed next to one of the double height windows which is accessorised with dark blue blinds.
Like this? Then you'll love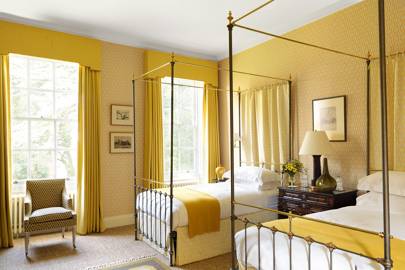 Matchy-matchy Yellow
Lush yellow curtains match not only the walls but also the four poster fabric in a pretty layering of colour. The room is one of a glorious honeycomb of bedrooms in a country house designed by Veere Grenney.
You might also like: Wallpaper Ideas