The decorator, artist luke edward hall's redesigns the bedroom he shares with his equally stylish boyfriend. Designer duncan campbell in camden, north london.
The designer: Luke edward hall
Luke edward hall studied menswear design at central saint martins and graduated in 2012. Before going to work for the architectural and interior designer ben pentreath. Luke set up his own studio in the autumn of 2015. Primarily an artist, he also designs interiors, fabrics and ceramics.
The muse: Duncan campbell
Luke's partner duncan is one half of campbell-rey, a creative consultancy and design partnership founded with charlotte rey in 2014. They launched their début furniture collection at the salone del mobile in 2017.
Before & after
The scheme
There is a lot going on in this room but we couldn't help ourselves.
We both love bright colour and mixing patterns and prints. Personally i kind of like it when things clash. It makes everything a bit more interesting.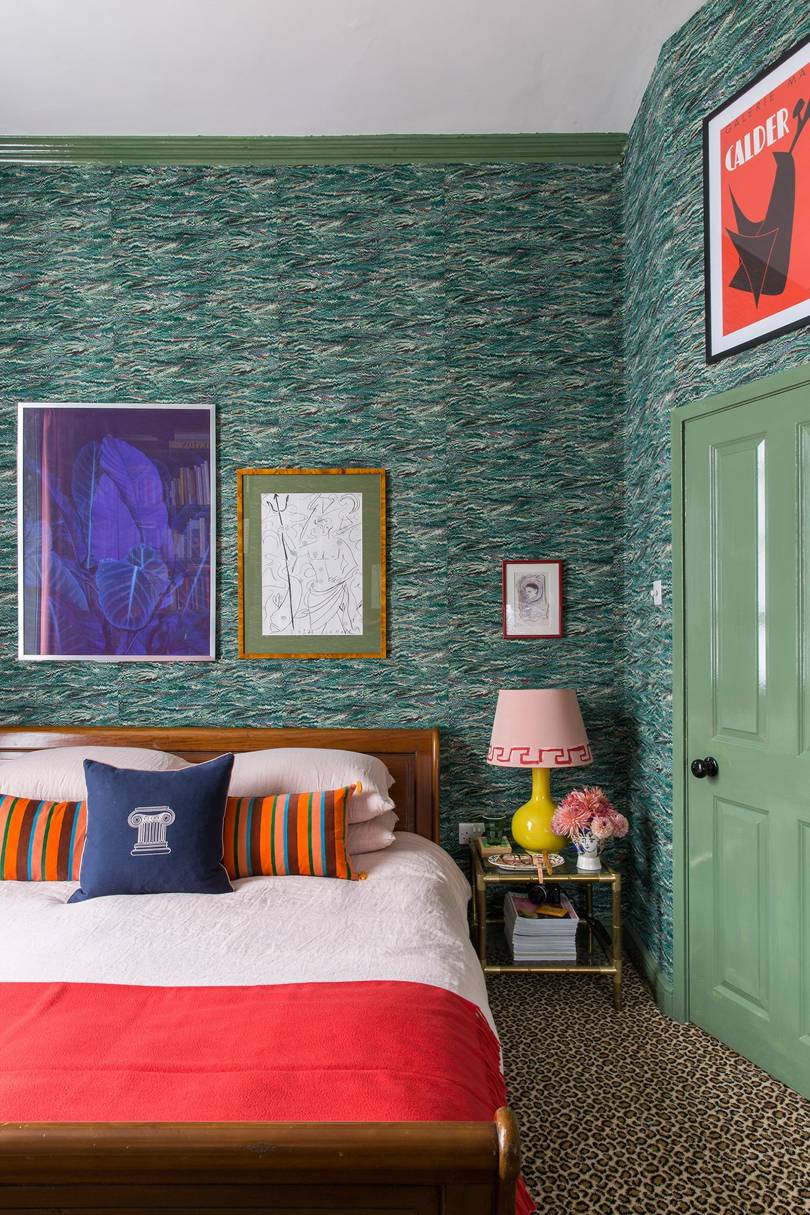 Clockwise from left: 'pheasant' wallpaper in malachite from twigs; photograph by tinko czetwertynski framed by circa 48, oil pastel sketch of poseidon by luke edward hall, prints by jean cocteau, bed cushions by luke edward hall, bed linen is loaf's 'lazy linen' in dusty pink; cashmere 'arran bed throw' in wine from begg & co; 'nellie table lamp' in mootard and pink shade from pooky; door painted in farrow & ball calke green (full gloss).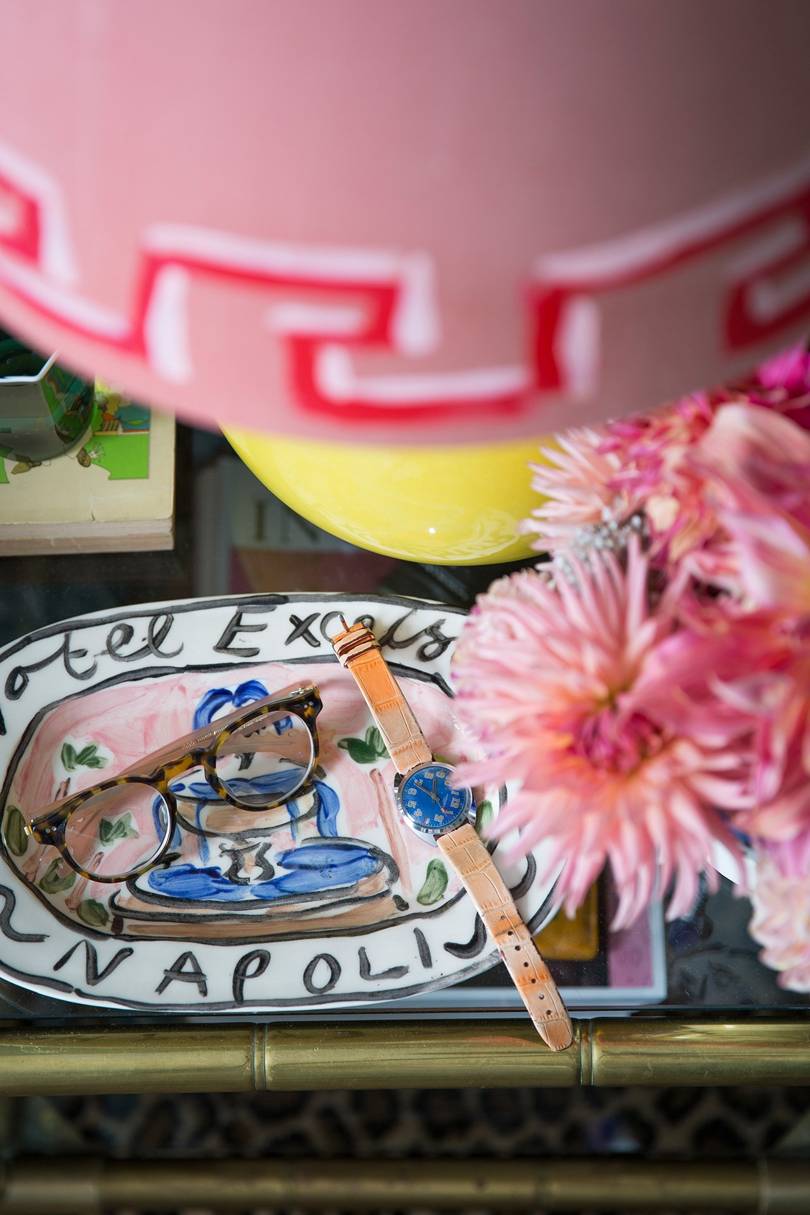 I spoke with duncan at the start of the project and we decided that we definitely wanted to do a patterned carpet. After throwing ideas back and forth we settled on leopard. We'd both recently been looking at madeleine castaing's interiors for jean cocteau, and the liberal use of leopard really inspired us.
We wanted to use pattern on the walls too and came across a wonderful marbled design by twigs. We're both big fans of green, so naturally chose the malachite colourway (also one of duncan's favourite materials).
Then it was a case of finding a colour that would work well on all of the woodwork and with the wallpaper as well as the carpet. We decided to go for farrow & ball's calke green in a gloss finish because we're both feeling all things shiny and lacquered at the moment.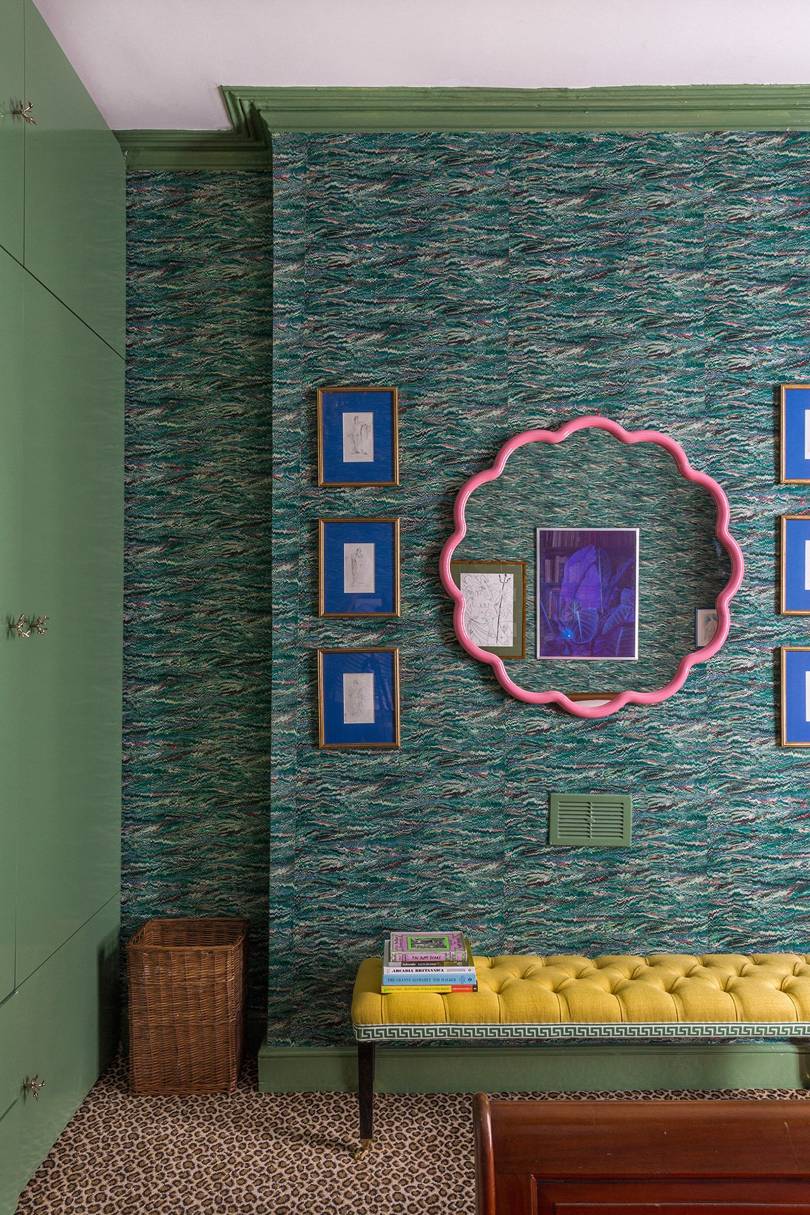 Image clockwise from left: 'pheasant' wallpaper in malachite by twigs from simon playle; prints of greek gods from luke's holiday in montalcino in electric blue mounts and gilt frames, 'flora' mirror from balineum in a custom 'antique rose' colourway; bespoke bench in 'craft' fabric by pierre frey in the 'mimosa' with turnell & gigon 'ganton tape' trim in green.
Duncan kept his (our!) old sleigh bed, the glass and brass faux-bamboo side tables and a mahogany chest of drawers.
We had a bespoke bench made in sunflower yellow linen from pierre frey with a green greek key tape.
Every bedroom needs an armchair or bench for throwing clothes on at the end of a long day.
Above the bench is a wonderful, curvy mirror from balineum that we had painted in a custom antique rose colour.
Either side of the pink mirror are old prints of greek gods that i picked up for next to nothing on holiday in montalcino earlier this year. I had them framed with electric blue mounts and gilt frames. The flash of gold works well in the room.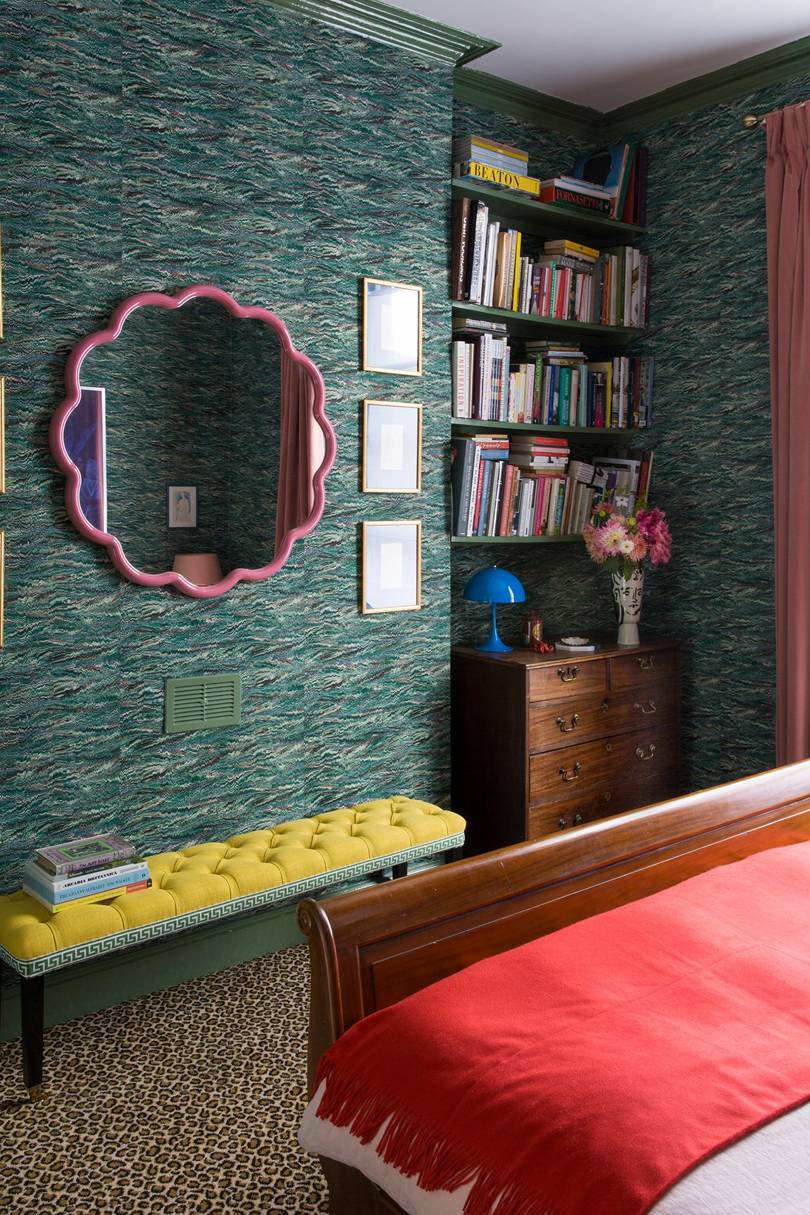 We built shelves above the old chest of drawers to house books which previously lived on the floor.
After the shelves were installed, there was just about room for a small lamp on top of the chest of drawers – we chose a panethella mini table lamp by louis poulsen from skandium – i've always liked the shape and the range of colours its available in. It's the perfect size and you can dim the light too.
The ceramics (a tall vase on the chest of drawers and a little vase and a platter on one of the bedside tables)
Are hand-painted by me, and there is an oil pastel sketch by me above the bed too, of poseidon. i spilt coloured water on it by mistake but then rather liked its new look. the larger, purple piece is a photograph by our extremely talented friend tinko czetwertynski. The smaller pieces above the bedside lamps are jean cocteau prints.
We kept the curtains from the old bedroom – they were made last year in a dusky pink velvet from pierre frey.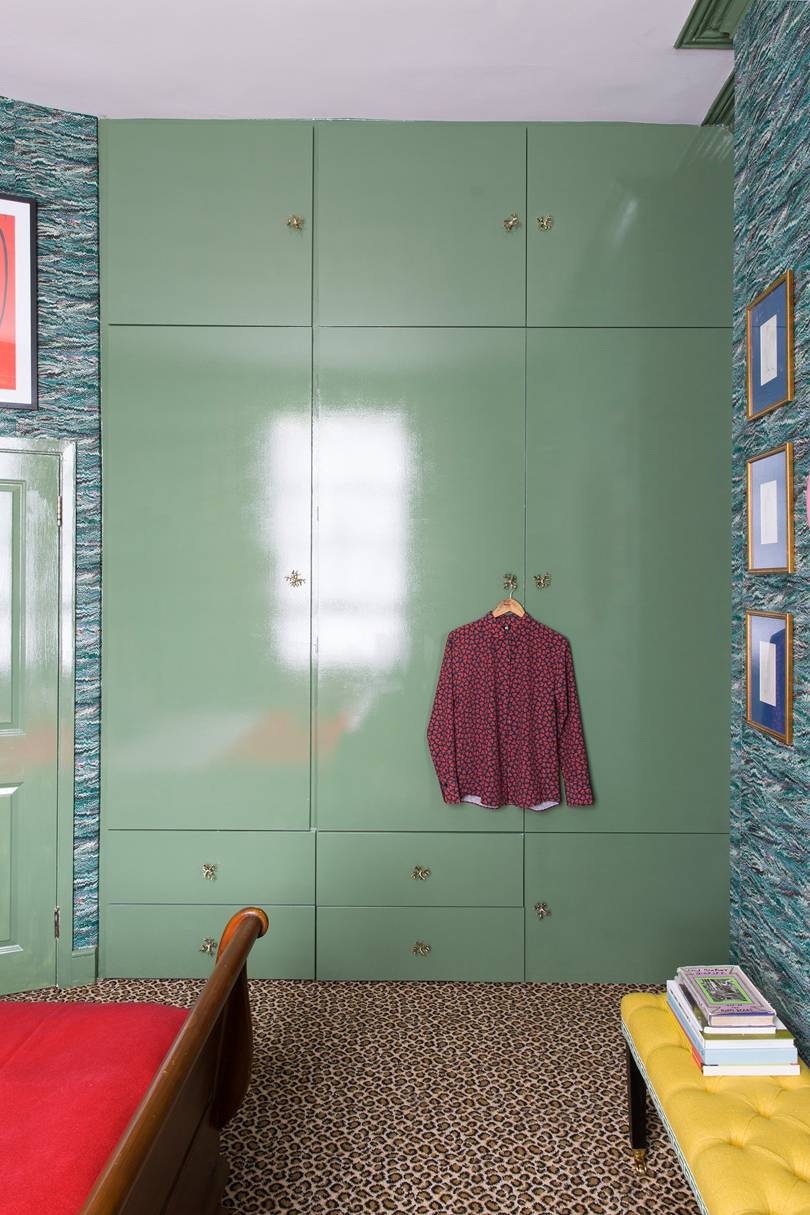 The bright yellow table lamps are from pooky and so are the pink shades, although i painted these with a red greek key motif.
Another flash of gold comes from the wardrobe, and drawer handles which are actually pieces of shiny faux coral from etsy. How could we resist those?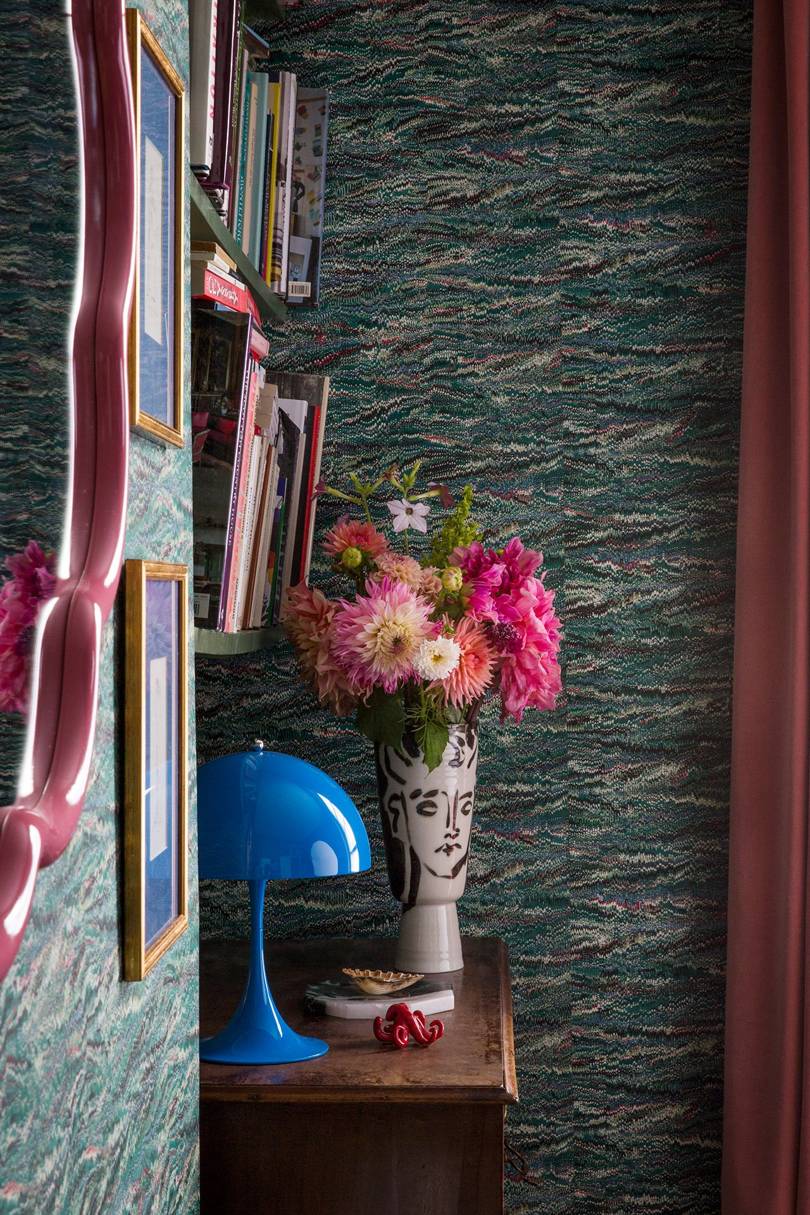 Lastly, the cushions on the bed are by me. The dusky pink bed linen is from loaf and the super soft pillar-box red throw is from begg co.