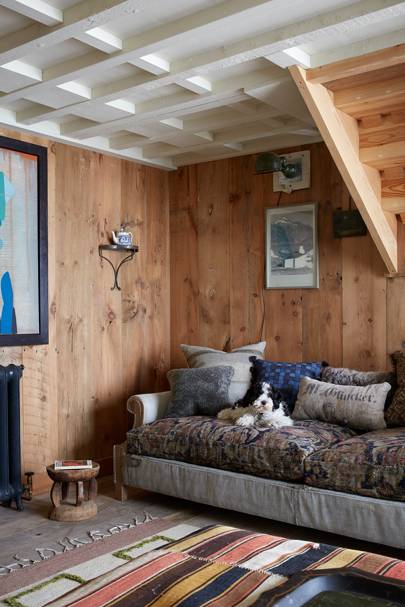 Barn Conversion Living Room
Although this tiny barn conversion living room is tucked under the stairs, designer Christopher Howe makes it feel spacious with an ample sofa, small footstool and delicate decorations.
You may also like: How to decorate with pattern
Mirror, Mirror
Mirrors: They have them in lifts for a reason. It's a well known trick that clever placement of mirrors completely transforms a design scheme, bouncing light back around the room and creating the illusion of more space.
Designer Ann Boyd's tiny London pied-à-terre is packed with useful ideas, including making use of natural light and mirrors to expand the space. The walls were transformed with MDF and mirror-glass panelling, the square design inspired by the windows. 'I am partial to MDF panelling; it hides a multitude of sins,' she says.
Taken from the November 2010 issue of House & Garden.
Ann Boyd Design: 020 7384 1660
Like this? Then you'll loveMore small space ideas from Ann Boyd's flat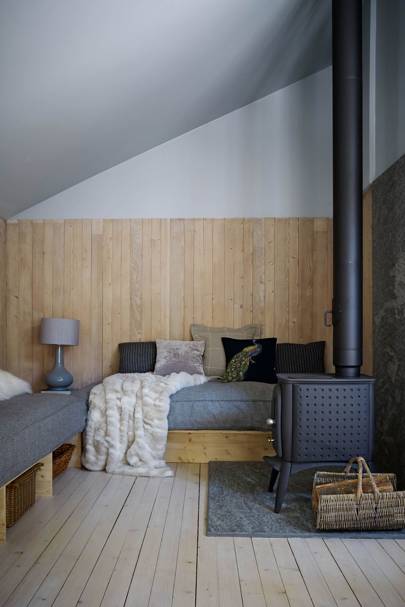 All lined up
Architect Jonathan Tuckey found this timber panelled chalet in the Swiss Alps on a family ski holiday in 2008. The house is arranged over four levels, with a timber-frame structure sitting on a stone base. Ladder-like wooden stairways connect the different levels of the house but without landings and corridors, so that each living space flows directly into the next. The greatest challenge laid in the low ceiling heights, which were 1.9 metres high at best. Jonathan's solution was to remodel the top two floors by carving out a double-height space to one side of the house, creating an open living area holding a sitting room and kitchen with a dining table. At the same time, Jonathan was able to super-insulate the house from within and add a wood-burning stove for warmth from Austroflamm and as a focal point for the sitting room. 'Everything within the chalet is new and then we designed other things to complement the spirit of the original house.'
Taken from the February 2015 issue of House & Garden.
Like this? Then you'll loveSee more pictures from this seventeenth-century chalet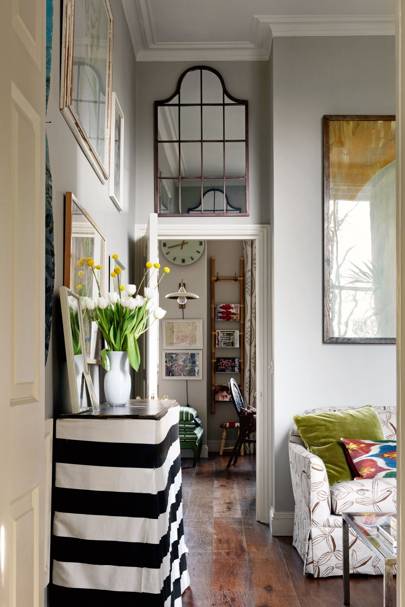 Raise the roof
Similar to designer Ann Boyd, throughout the flat interior designer Beata Heuman has used mirrors to reflect light and create an illusion of space. In the living room, a pair of bronze-framed mirrors, hung opposite one another above the doors, increases the sense of ceiling height.
Like this? Then you'll love See more from Beata Heuman's first-time buyer's flat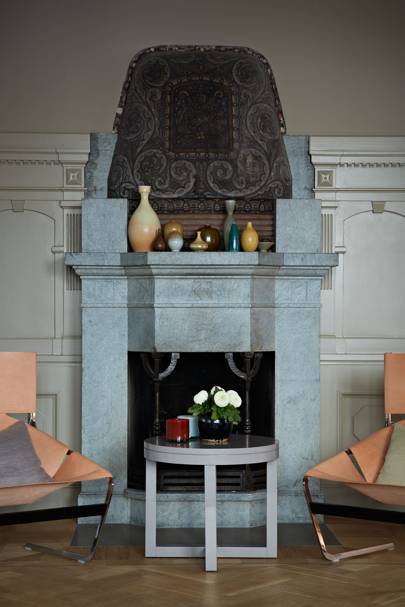 In the round
Opt for a round coffee table over a square or rectangular one (as seen here at the stylish Ett Hem hotel in Stockholm). It will allow for easier movement around it, making the space appear larger.
Like this? Then you'll loveStorage solutions for small spaces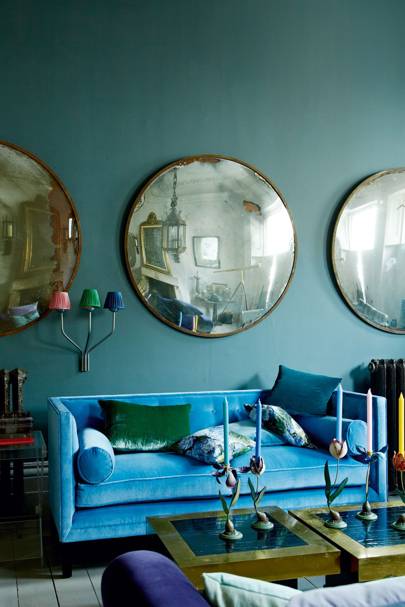 Dark colour scheme
It's true that a pale colour palette can make a small space appear larger, but a dark colour scheme can add drama. The key to picking colours for a small living room is to keep it simple: choose two or three hues and carry them through the scheme.
Like this? Then you'll loveHow to decorate with dark colours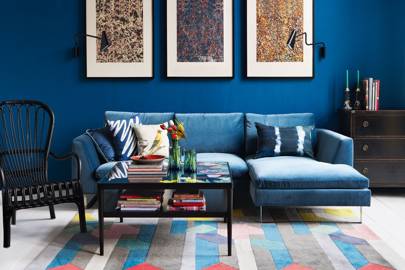 Go mod with a corner sofa
Corner sofas and modular furniture may in many ways be bulkier, but in a small living room it can form the layout of the room and provide all the necessary seating. Opt for a corner sofa raised from the ground as light flowing underneath will make it seem less cumbersome.
'Jasper' corner sofa, £2,169 at loveyourhomeforless.com
Like this? Then you'll loveSmall bedrooms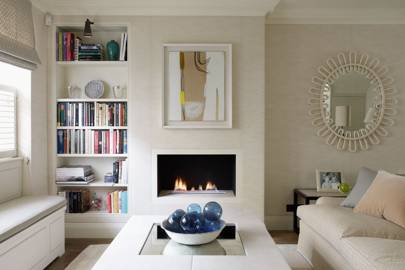 Hidden TV storage
This living room by Philippa Thorp is actually much smaller than it appears. Every drop of space has been utilised, and every trick in the book employed, to make the space feel bigger and lighter.
'We needed to fit a three-bedroom house into just 93 square metres without its seeming squeezed,' says Philippa, 'so we had to make excellent use of space. It was also very dark. We basically gutted it and started again, to bring in as much light as possible, and increase the sense of space.'
Every nook and cranny cleverly camouflages storage. Even the window seat and custom-made table conceal touch-catch drawers, and a false bookcase (to the left of the fire) incorporates a rise-and-fall mechanism that reveals the television. 'I went to a second-hand bookshop and bought books to the exact measurements, then had to chop them up for their spines,' says Philippa. 'I felt very guilty – but the result looks genuine.'
Warmth and depth is provided by a neutral fabric from Colefax and Fowler that lines the walls. The calm neutrals and clean lines are highlighted by an eye catching abstract painting by Terry Frost. The sofa is covered in 'Small Star' in flax by Galbraith & Paul, with cushions made from 'Minuet' silk velvet by Kravet to add texture. A bespoke rug from Vanderhurd covers the distressed oak boards that extend through the entire ground floor.
Taken From the May 2013 issue of House & Garden.
Like this? Then you'll loveStorage solutions for small spaces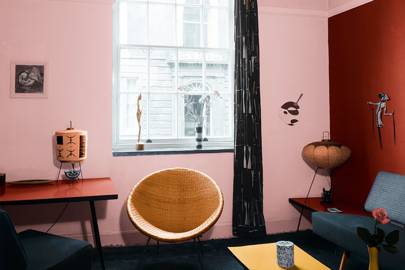 Mid-century furniture
Avoid bulky pieces in favour of more delicate designs. Mid-century style furniture is just the ticket, as this Oxford University bedsit from 1959 proves.
Like this? Then you'll loveMeet the original hipsters: Amazing images the Fifties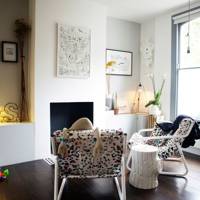 The light stuff
It's all about clever lighting. Shady corners will close in the space so start accessorising with some uplighting. Be inspired by the Columbia Road home of Jo Sindle and Kyle Stewart, owners of The Goodhood Store in east London.
Like this? Then you'll loveMore pictures of Jo and Kyle's home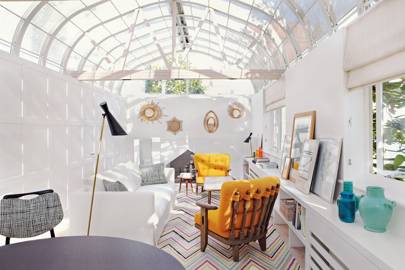 Small living room in a former artist's studio
This 90 square metre former artist's studio in Chelsea was transformed into a light-filled pied-à-terre for a family of five through clever reconfiguration of the interior (with help from designer Eve Mercier). The pièce de résistance of the house is the original Perspex roof on the upper floor, which lends the small living room the feel of a conservatory and creates the illusion of space.
Taken from the April 2012 issue of House & Garden. Additional text: Teresa Levonian Cole.
Like this? Then you'll love More ideas for small spaces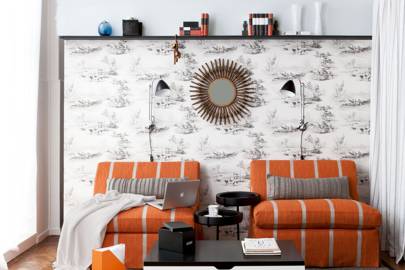 Sofa bed for a small living room
For our story The Bigger Picture, our decorating team took on the challenge of a 17m² studio apartment. Here, the 'chairs' are actually sofa beds from The Bolton Sofa Bed Company covered in fabric from Romo. During the day, you can store the bedlinen neatly away in a trunk. At night, simply push the chairs together to create a stylish double bed (see it here). Another tip? A high display shelf creates the illusion of height by drawing the eye. For full credits of the products featured, see here.
Taken from the September 2011 issue of House & Garden. Styling by Gabby Deeming and Olivia Gregory.
Like this? Then you'll loveMore ideas for decorating a small studio flat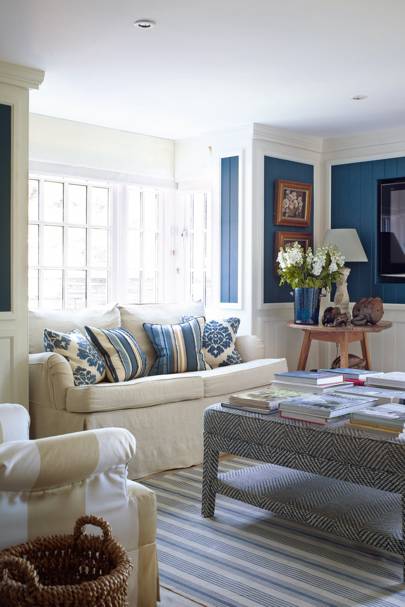 Work with your space
Work with, not against your home's natural architecture. It's an important lesson for any space, but especially true for small homes, as this space designed by Paolo Moschino proves. Here, an alcove by the window is made the most of with a small sofa nestled inside. The blue and white colour scheme also remains true to the style of the building -a fisherman's cottage by the sea in Cornwall.
Taken from the August 2013 issue of House & Garden.
Like this? Then you'll loveSmall bedroom ideas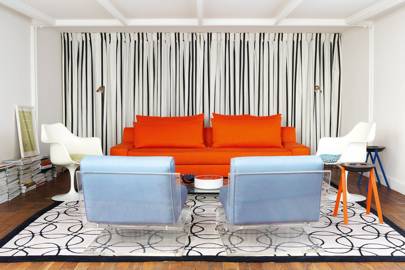 Look to Lucite or Plexiglass
Lucite or Plexiglas furniture is a small space godsend. Not only is it sleek and stylish, but by allowing light to pass through it, it's almost as if it wasn't there.
In the Paris home of Vincent Frey and his wife Bianca, the Jacques Charpentier Plexiglas armchairs were salvaged from a warehouse belonging to Vincent's father (Vincent is the grandson of the eponymous Pierre Frey founder, and the current deputy manager of the company). Originals like these occasionally turn up at auction so it is worth keeping an eye on 1stdibs.
For something comparable to the two white 'Tulip' chairs flanking the Pierre Frey sofa try Bluesuntree, whose take on the classic design costs £99. The graphic rug in the living room was custom-made by Braquenié.
Taken from the March 2012 issue of House & Garden. Additional text: Ian Phillips and Emily Tobin.
Like this? Then you'll loveAll our living room ideas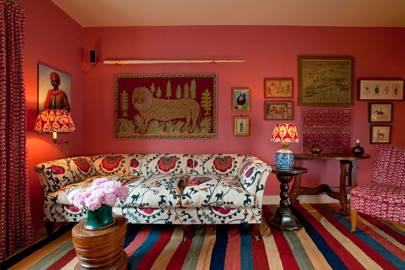 Pattern & Colour Mix in Vibrant Living Room
This vividly coloured and eclectic sitting room (in the home of Lulu Lytle from Soane – see this specialist feature on their craftsmen) demonstrates how to mix pattern and colour with treasured objects including a narwhal's horn and an Indian chainstitch rug depicting a lion hung on the wall. Interspersed with these items is Lulu's impressive collection of Middle Eastern textiles and art.
Bunny Sofa, £6,900 from Soane.
Like this? Then you'll love How to decorate with pattern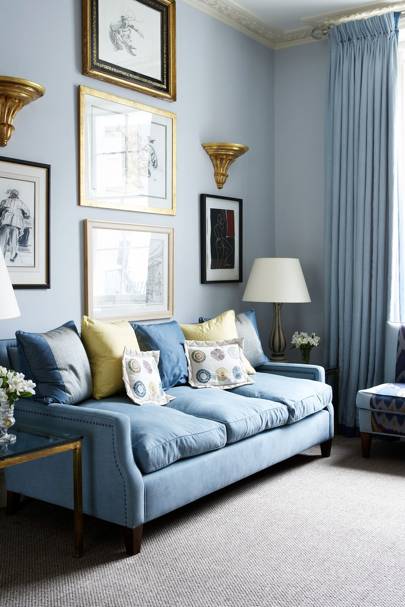 Armless furniture
Opt for sofas with slim arms (or chairs that forgo them altogether). Designer Jane Churchill's small living room in Chelsea includes two chairs covered in silk ikat, which inspired the scheme for the whole room.
Taken from the October 2011 issue of House & Garden. Additional text: Teresa Levonian Cole.
Like this? Then you'll loveIdeas for small bathrooms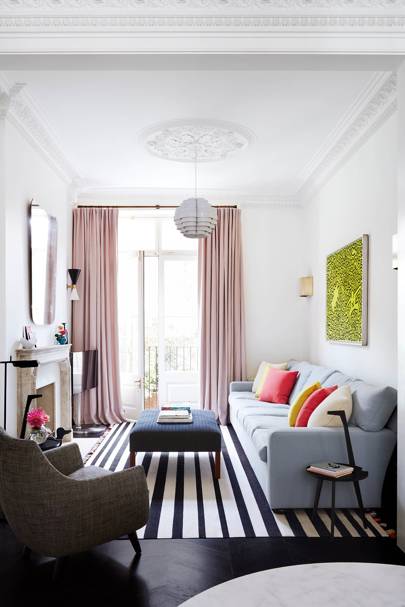 Narrow escape
How to expand a narrow living room? In this Notting Hill town house, interior designer Suzy Hoodless used strong, clean lines to emphasise the high ceilings, softened by a bespoke George Smith sofa and colourful cushions. When space is limited, it can be tempting to mount the television to the wall, but here it is unobtrusively tucked to the side to ensure the frameless mirror (also space-enhancing) is a focal point.
Taken from the March 2015 issue of House & Garden.
Like this? Then you'll loveMore stylish living room ideas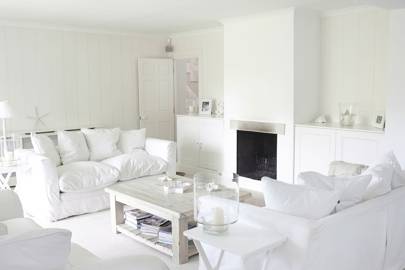 All-white colour scheme
Feeling brave? Commit to an all-white scheme. It's well proven to make a space seem bigger. Plus the effect is so dazzling that if nothing else, it'll distract anyone from noticing the size of the room.
Like this? Then you'll loveLiving Room Ideas | White Room Ideas | How to decorate with white paint | Modern Living Room Ideas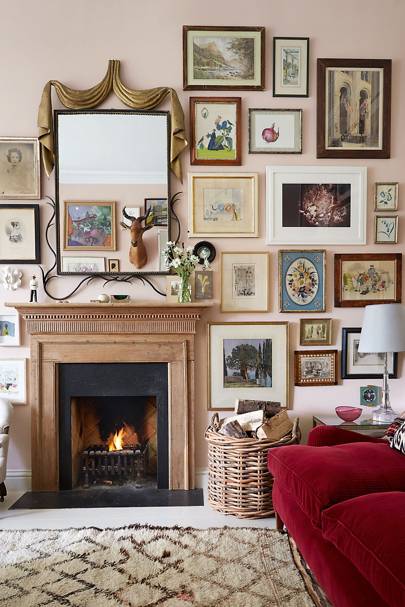 Rita Konig's Small Living Room with Fireplace
The sitting area in Rita Konig's London flat is a masterclass in layering, with textiles in different patterns and textures covering the sofas and cushions; Etro's red cotton velvet 'Palinuro' from Pierre Frey is used on one sofa and China Seas' 'Ziggurat' from Tissus d'Hélène on the other. The open fireplace surrounded by a chimneypiece found at Petworth Antique Centre, and walls covered with a mix of framed prints, photographs, drawings and paintings, add to the relaxed look.
Like this? Then you'll love: Small Bedroom Ideas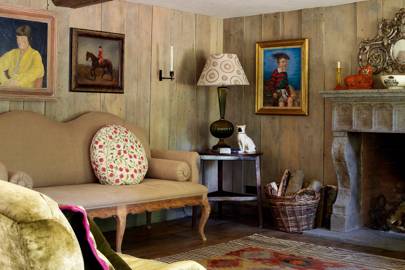 Wood Panelled Cottage Living Room
The chimneypiece in the drawing room of Robin Muir's house is from Renaissance. One sofa is upholstered in a plain cotton, the other in a green silk velvet from Abbott & Boyd. The walls lined in floorboards give this room a cosy, rustic feel.
Taken from the October 2014 issue of House & Garden.
Like this? Then you'll love
Make your hallway a stylish room of its own with these design ideas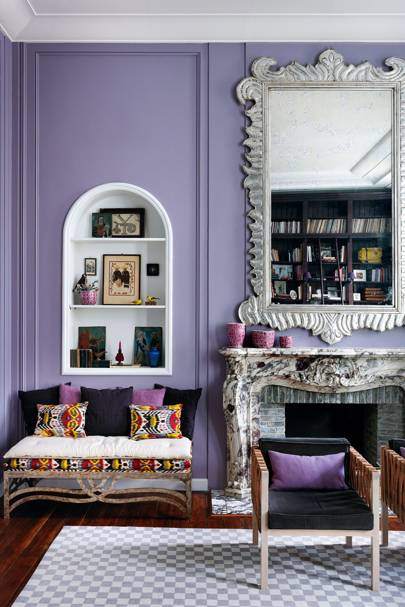 Purple Living Room
Anne-Marie Midy and Jorge Almada mix striking modern art and Mexican artefacts with quirky ornaments and accessories that catch their eye. Although the markets of Mexico are a long way to go, you can log on to Viva La Frida, which specialises in brightly coloured Mexican oilcloth and Mexican folk art of the kinds you might find in this house. Jorge designed the armchairs in this room and the tin-framed mirror is a Casamidy design scaled up specially for the room.
Like this? Then you'll love MORE FROM INSIDE ANNE-MARIE AND JORGE'S HOME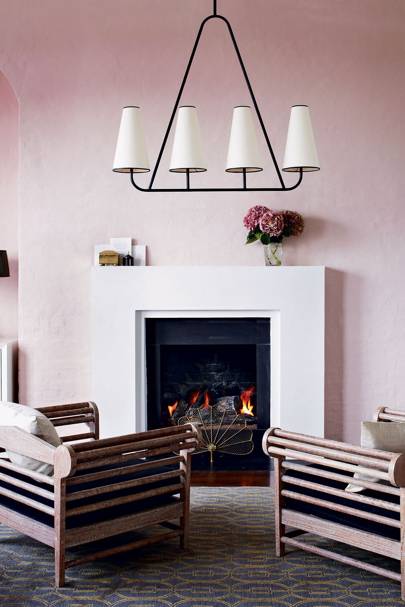 In The Pink
Inspired by the Art Déco glamour of the Twenties and Thirties, Gabby Deeming and Olivia Gregory have created an elegant scheme using an understated palate of pale pink and grey. The walls have been painted in '16A03′ matt emulsion from Little Greene. The Thirties limed-oak armchairs were source from Marchand Antiques, while the wool and silk rug is the 'Maille' from Riviere.
From the June 2012 issue of House & Garden. Photographs by Anders Gramer.
Like this? Then you'll love Perfect paint combinations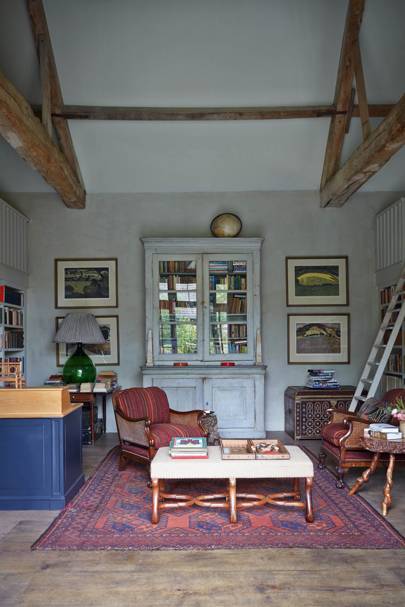 Small Living Room in a Converted Barn
Wanting a place to display her treasured book collection, Emma Burns, senior decorator at Sybil Colefax & John Fowler, transformed a converted barn at her country home into a library and guest cottage full of hidden suprises and witty details. The sitting room is flanked by shelves on both sides. The glass-fronted bookcase is from Robert Kime, while the pair of armchairs are upholstered with jajim rugs.
Taken from the February 2014 issue of House & Garden.
Like this? Then you'll loveBrilliant bookshelf ideas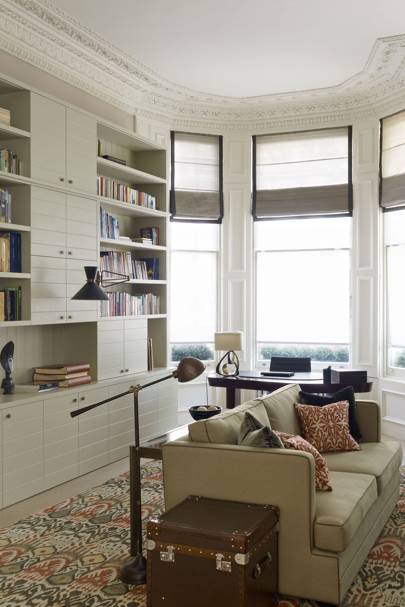 Bespoke Storage Unit
The bespoke shelving unit is the star of the show in this elegant room by Todhunter Earle. Though decorated in a neutral cream scheme, this room has plenty of character with elegant ceiling detail and a bright bay window.
Taken from the June 2014 issue of House & Garden.
Like this? Then you'll love How to hang pictures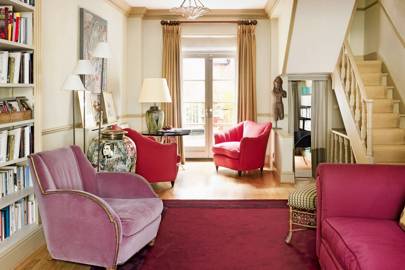 Neutral Palette with Splashes of Colour
Moved into a new place? Be inspired by the French owner of this Chelsea pied-à-terre, Cécile Chancel, and enliven existing features with your own touch. Cécile retained the previous owner's neutral palette but added splashes of colour and modern furniture. The two pretty coral-coloured armchairs are from Gallery 25 in Pimlico (find similar from Quindry for around £990). C'est très chic.
Taken from the September 2012 issue of House & Garden.
Like this? Then you'll lovePerfect paint combinations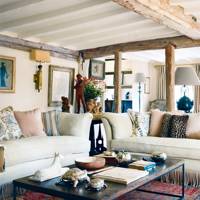 Not your typical country cottage
Display what you love, even if it seems out of context. Curiosities in this drawing room belonging to interior designers Philip Vergeylen and Paolo Moschino include two of Paolo's collection of silver tortoises.
Taken from the March 2013 issue of House & Garden. Additional text: Tristram Holland.
Like this? Then you'll love 50 ways to make your house a home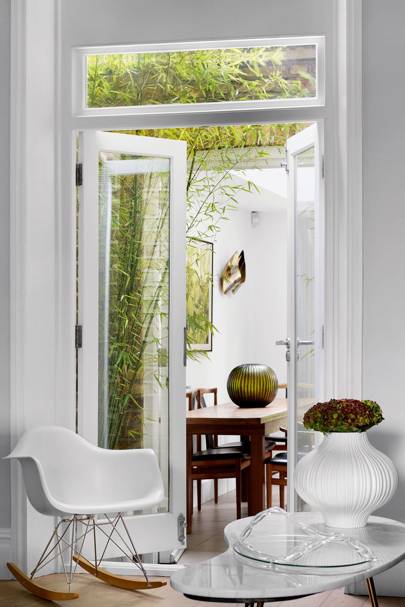 Small White Modern Living Area
This small living area in the south London home of interior designer Sarah Chambers has been decorated with a white colour scheme, which allows the green of the plants to be the single arresting colour in the space. Rather than closing off or completely opening up what became the meeting point of the back sitting room and the new extension, Sarah has created a miniature internal garden, which is open to the elements above, with French windows on both sides.
You may also like: Modern Living Room Ideas | Living room colours | Country living rooms | Beautiful Wallpaper Ideas | Curtain Ideas | Living room lighting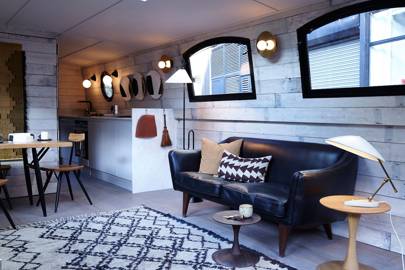 Bert's barge
Perhaps best known for producing beautiful tiles, Bert & May have created this chic barge in the depths of Hackney. Having limited space they have cleverly utilised the narrow shape to create a comfortable living area. The walls are clad in reclaimed wooden planks from Bert & May, stained white to contrast with black window frames. The 'Azilal' rug by Larusi is complimented by an 'Illum Wikkelso' sofa by The Modern Warehouse with cushions from Conran. The mix of lights add a cosy feel to the room with an Eileen Gray 'Roattino' floor lamp from Aram, and wall lights by Atelier Areti. The side tables are from Sigmar.
They have also cleverly slotted in a dining and kitchen area with a pine 'Pirkka' dining table and chairs design by architect llmari Tapiovaara for Laukaan Puu. The ceramics on the table were specially made for Bert & May by Vanja Bazdulj, based on tile designs, as was the wall hanging by Native Line. The plates on the wall in the kitchen were commissioned and made by Darkroom.
Like this? Then you'll loveMore small bedroom ideas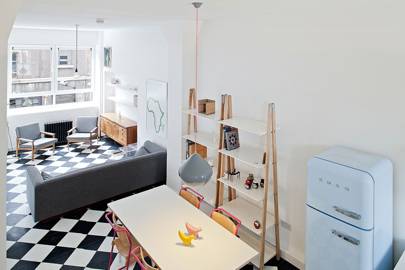 Small living room and kitchen combo
For a small, thin space, this living room and kitchen combo crams in a whole lot of style. The checkerboard floor unites the scheme, while each individual area (kitchen, dining room, sitting area) is subtly delineated. A great trick to try if your living room also doubles as an office.
Like this? Then you'll loveSmall kitchens
Small white living room with marble fireplace
Velvet, leather and marble – different textures make for an arresting scheme in the small living room of Sarah Chambers' south London home. Oriental accents scattered across the room create a sense of cohesion. A particularly clever detail on the tall white doors to the sitting room is the addition of geometric mouldings inlaid with mother of pearl and paper wallcovering by Nobilis. Similarly appealing decorative flourishes catch the eye throughout.
Like this? Then you'll love
Bespoke L-shape Sofa in Small Living Room
A bespoke L-shape sofa by Hackett Holland that is big enough for the whole family features in this small living room. For this space, a neutral palette was chosen to direct focus onto views of the Thames.
With three teenage children, downsizing from a house to a mansion flat in Richmond presented a challenge for this couple – one the architect Johnny Holland of Hackett Holland easily rose to.
Like this? Then you'll love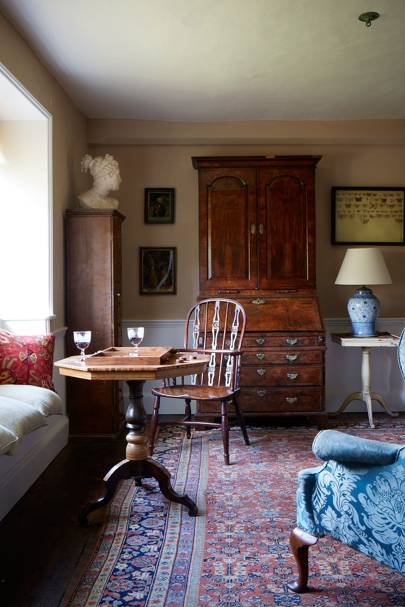 Small Country Living Room With Antique Furniture
The morning room at Max Rollitt's house is a lesson in how to make the most of a small space. A cosy seat has been fitted under the window – this is a perfect spot for reading or contemplating. Space on top of dressers and chests of drawers has been used to display antiques. The effect is cosy but not at all cluttered. Max has managed to maintain an sense to light and space in this compact room.
Like this? Then you'll love
Get carried away with these dreamy designs for rooms with a view »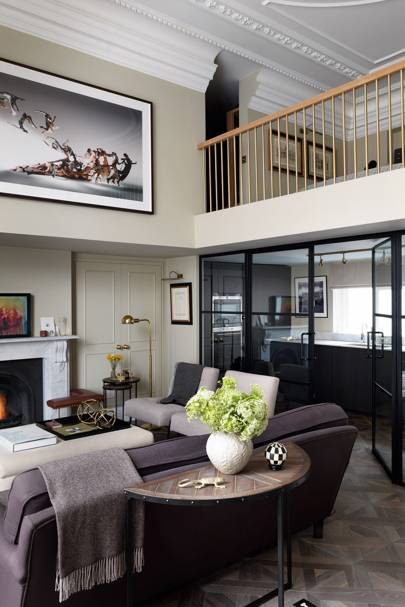 Cosy Modern Living Room
In this small one bedroom Victorian flat use of every inch of the main room has been maximised, fitting in a large sitting area and a dining nook with banquette seating in Linwood's 'Moleskin Velvet' fabric in mustard. A trio of Michael Anastassiades pendants and a photograph by Nick Knight above the chimneypiece accentuates the high ceiling.
You may also like: Living Rooms | Modern living rooms | Small living rooms | Living room colours | Country living rooms
Small White Living Room With Blue Sofa
The living room of this Paris apartment with interiors designed by Tara Craig uses vibrantly coloured furniture and acessories against a plain white background. The palette for the apartment was inspired by particular references: the ocean hues of the furniture and fabrics were inspired by some woven Zulu bowls and a navy diary and green purse, both from Smythson, belonging to the client.
Tara works closely with several British upholstery workshops, in this case commissioning a Howard-style sofa and a hand-sprung ottoman. The latter has sensibly been upholstered in a graphic print because, as she says, 'people put their feet up and pattern is a good tool for hiding marks and spills'.
Taken from the August 2015 issue of House and Garden.
Like this? Then you'll love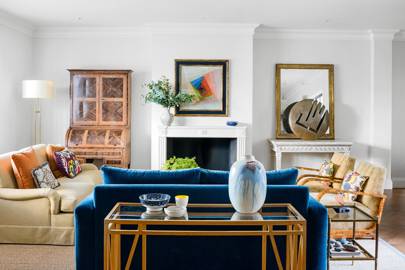 The Open Plan Sitting Area
When the opportunity arose to buy the adjoining house on their London terrace block, the Florescus didn't hesitate to create a London terraced town house conversion. After combining the two houses they have space to keep their work and home lives seperate. Several pieces of art are displayed here in this open plan sitting and dining area, including a painting by Romanian artist Nadia Grossman-Bulighin behind the piano, a slashed sculpted steel disc by Jacques Maistre and a second-century Roman sculpture of a torso.
You may also like: Small bedrooms |Upholstery | Wall Murals | Home technology | Small Flat Ideas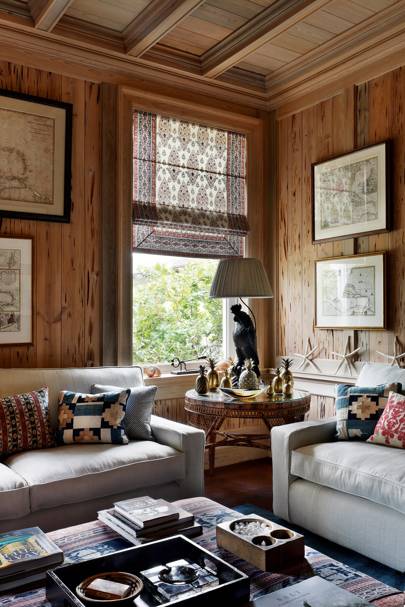 Cypress Wood Paneling in Cosy Room
The cypress-panelled walls, which give this small living room a cosy feel, are decorated with maps of the Caribbean. The pattern on the blinds matches the one on the rug, tying the scheme together.
The owners of this Bahamas beach house turned to trusted interior designer John McCall to provide their house with a British sensibility, practical furnishings and interiors that are not 'too beachy'.
Like this? Then you'll love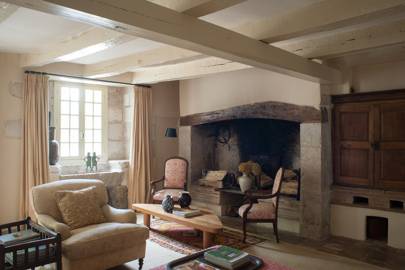 Rustic Living Space
After visiting her friend Kathryn Ireland in France's Tarn region, Anne Halsey bought a French farmhouse retreat there and enlisted the help of the decorator to create a relaxed space perfect for entertaining. In the living room dining-style chairs surround the coffee table, providing a more formal seating area in the living space. A muted pastel colour scheme allows the large fireplace to take centre stage making for a cosy area.
You may also like… Living Room Ideas
Small Pattern Living Room
Crittall screens differentiate the space in this living room by Turner Pocock. The patterns on upholstery and rugs mimic the statement made by the mirrors – both are bold and graphic. The twin mirrors on either side of the fireplace reflect the natural light beautifully and really open up the alcoves.
View Turner Pocock on The List
Like this? Then you'll love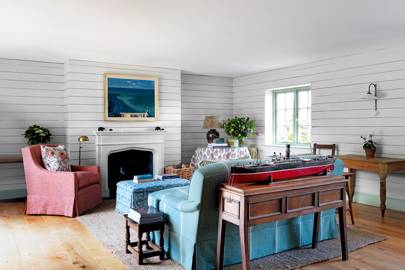 Guest Cottage Sitting Room
A cosy wood-pannelled sitting room in the converted-garage guest cottage of Vanessa Macdonald's Oxfordshire home. The living room is smaller than in the main house, but equally charming, with the condensed arrangement of furniture around the rug leaving well-proportioned open space.
You might also like: How to decorate with pattern